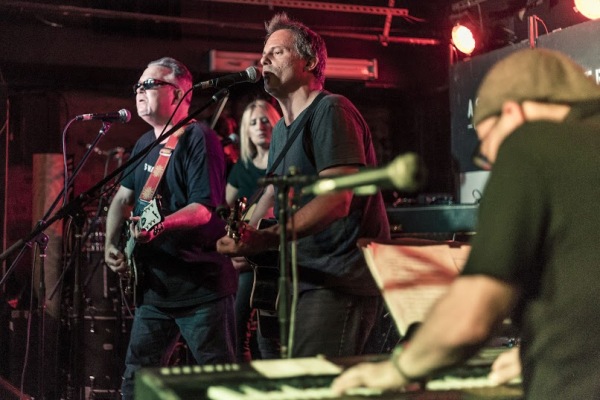 [photos by shootMEpeter]
Of all of the thousands reviews I've written for NYCTaper, the words needed to describe this performance by The Sharp Things at Mercury Lounge is certainly the most difficult. But these are just words. What the band did on this night was exponentially more difficult than anything I could imagine a musician would have to endure. On the morning of the performance Steve Gonzalez, the longtime and original Sharp Things drummer and multi-decade friend of the band's protagonist Perry Serpa, passed away at the age of 49. I asked Perry to talk about the night:
He, Steve Gonzalez, was our drummer but also my best friend of almost 40 years, so he was very much a part of our family. We had found out about his passing during our soundcheck for this show and while I was ready to just walk away from it, my band, our bandmates, our family and friends insisted that we play, and so we did. And it was the best thing because the evening ended up being a wonderful, communal celebration of his life in a place that he loved playing.
The band is gearing up for the release of the third album in the four-album "Dogs Of Bushwick" series. Adventurer's Inn will be released on Dive Records in November. This special Mercury set featured a mix of older numbers and included a few of the newer songs we'll expect to hear on the new album soon.
I recorded this set with the Schoeps cardioids set up at the soundboard booth and mixed with an excellent feed provided by house FOH David. The sound quality is superb. Enjoy!
Stream "Daphne's Coming Over":

Download the Complete Show [MP3] / [FLAC]
Note: All of the material on this site is offered with artist permission, free to fans, at our expense. The only thing we ask is that you download the material directly from this site, rather than re-posting the direct links or the files on other sites without our permission. Please respect our request.
Sharp Things
2014-09-11
Mercury Lounge
New York NY
Digital Master Recording
Soundboard + Audience Matrix
Soundboard [Engineer: Dave Lefcourt] + Schoeps CCM4u Cardioids > Edirol R-44 (Oade Concert Mod) > 2 x 24bit 48kHz wav files > Soundforge (level adjustments, mixdown, EQ, set fades) > CDWave 1.95 (tracking) > TLH > flac (320 MP3 and tagging via Foobar)
Recorded and Produced by nyctaper
Setlist:
[Total Time 46:50]
01 [intro for Steve]
02 There Will Be Violins
03 An Ocean Part Deux
04 Dogs Of Bushwick
05 Love Me Indigo
06 Silver Anniversary
07 Storm King
08 [banter – weird beard]
09 Lament-A Million Things
10 Union Chapel
11 Daphne's Coming Over
12 [outro]
If you download this recording, we expect that you will PLEASE SUPPORT The Sharp Things, visit their website, and purchase their official releases from the band's online Shop [HERE].