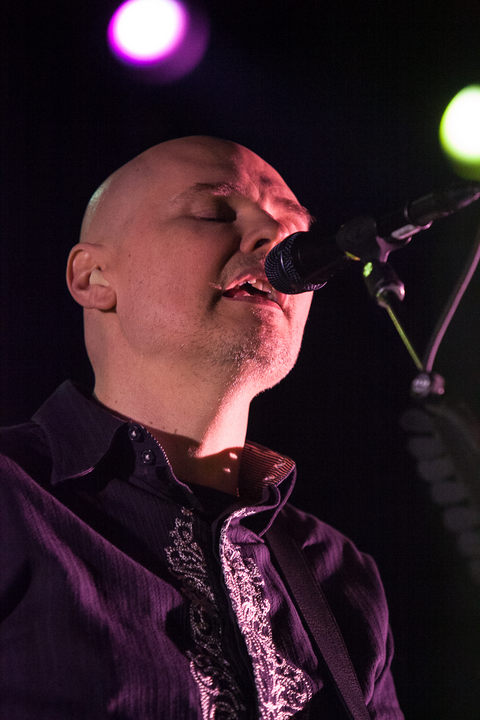 [photo courtesy of Gretchen Robinette – full set at brooklynvegan]
I think its safe to say that Billy Corgan can be a polarizing figure in the music press. The Smashing Pumpkins are certainly one of rock's most enduring 90s bands and although Billy has been endlessly criticized for a series of personnel changes in the band, the group as it exists in 2014 is still a pretty damned good unit. The new Smashing Pumpkins album Monuments to an Elegy is a superb record — high quality material with a very strong supporting cast and Billy's guitar and voice have never sounded better. Its the album you'd hope that the Smashing Pumpkins would make in 2014. But reading the current state of the music press, you wouldn't necessarily even know that TSP and Billy released such high quality work or that they even have a new album at all. And that's a shame. The click-driven rags that write about music-related issues are selling headlines and Billy's various beefs and highly quotable outlandish statements drive the big type and site visits. But credit where credit is due — among those sites, Pitchfork begrudgingly gave Monuments a review that was both fair and pretty accurate.
The Smashing Pumpkins are playing a few small venues in various cities to celebrate the album's release and as an introduction to the band that will play the much larger album support tour. New York and Webster Hall were fortunate to land one of these intimate events. The band consists of Corgan and longtime TSP guitarist Jeff Schroeder, and newcomers bassist Mark Stoermer (from The Killers) and drummer Brad Wilk (Rage Against The Machine). Despite having played only a few shows together thus far, this unit of pros is already operating on all cylinders and were about as tight as could be expected. The setlist for this show was of course heavy on Monument material (five of nine songs), but also included a nice selection of older material ("Hummer" was a standout) and one neat cover (Bowie's "Fame" streaming below), before the main set closed with a tremendous thirteen-minute "Silverfuck" that was both jammed, intense, and included a couple of teases (I heard "Kashmir" while others noticed "She Sells Sanctuary"). The show ended in a forward-looking fashion as TSP closed with the night with a powerful unreleased ballad called "Burnt Orange-Black" which is scheduled to appear on their next album due in 2015. This mini tour concludes on the West coast this week with shows in Las Vegas and LA. Stay tuned for new tour dates in the new year.
I recorded this set with the Schoeps cards mounted on the front center wall of the soundboard cage in the lower balcony. The recording is primarily (75%) room mics because the sound in the room on this night was among the best quality sound I've literally ever heard in any venue due in large part to the quality of the crew and Webster's new upgraded system. We added in a small amount of board feed to boost the vocals and give the recording a bit more "direct" sound. This amazing sounding show was mixed by the band's current FOH Kevin Lemoine and he deserves all the credit. Enjoy!
Stream "Fame" (David Bowie cover):

While Archive.org is temporarily down due to local power issue – Download [MP3] [FLAC]
This Recording is now available for Download in Flac and MP3 at Archive.org [HERE]
Stream the Entire Show from Archive.org:

Smashing Pumpkins
2014-12-08
Webster Hall
New York NY
Digital Master Recording
Soundboard + Audience Matrix
Soundboard [Engineer Kevin] + Schoeps CCM4u Cardioids > Sound Devices 744t > 2 x 24bit 48kHz wavs > Soundforge (level adjustments, mixdown, EQ, set fades) > CDWave 1.95 (tracking) > TLH > flac (320 MP3 and tagging via Foobar)
Recorded and Produced by nyctaper
Setlist:
[Total Time 1:41:09]
01 One and All
02 Being Beige
03 Hummer
04 Tiberius
05 [banter – bass amp]
06 Tonight Tonight
07 Drum and Fife
08 Glass and the Ghost Children
09 Stand Inside Your Love
10 [banter – adventure]
11 Monuments
12 Drown
13 Disarm
14 Zero
15 Bullet with Butterfly Wings
16 Fame [Bowie]
17 Silverfuck
18 [encore break]
19 Ava Adore
20 Burnt Orange-Black
If you download this recording from NYCTaper we expect that you will PLEASE SUPPORT Smashing Pumpkins, visit their website, and purchase Monuments to an Elegy from the band's website [HERE].