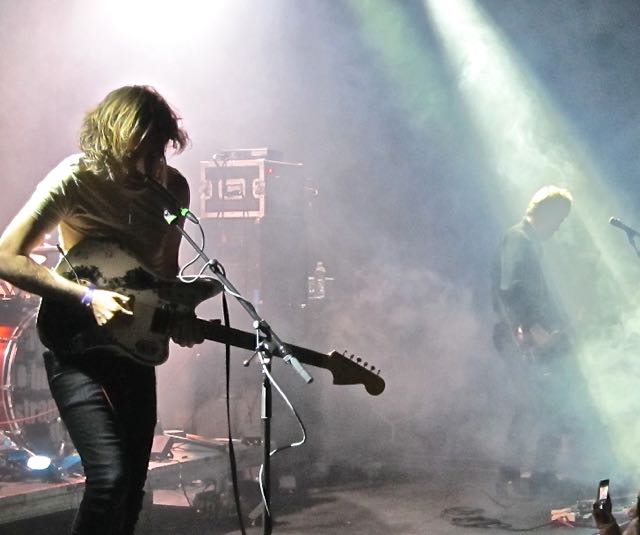 [photos by acidjack]
A Place to Bury Strangers are one of several bands that incubated in the scene (and the sound) that grew up around Death By Audio and its line of effects pedals, making it fitting that they headlined Music Hall of Williamsburg just months after that venue's untimely end. Though the band arrived on the scene just over ten years ago (in 2003), it feels like it's been eons in musical terms. Today, their dark tone, blown out guitar sound, and relentless, ambitious live show feels vaguely foreign to the current indie mainstream, but that is as it should be. This kind of music may or may not always be a "trend", but it will always have the ability to seize a crowd, and keep it.
It's fitting that the band opened with "We've Come So Far": The number comes from Transfixiation, the brand-new album whose release was being celebrated that night, and it also describes this band's history. With only one consistent member throughout (frontman Oliver Ackermann), the now-trio has continued to hone a sound much more consistent than its personnel changes would suggest. From the obvious MBV homage of their self-titled 2007 debut, the band has both added layers and stripped them away, leaving them at the more tightly focused Transfixiation, which takes a few steps back from the wall of noise to find some new melodies — and a bit of extra weirdness — underneath.
Not that you'd have been able to tell at the album release show. From the first peals of guitar noise to the militaristic percussion of "So Far Away", the band blanketed itself in noise, barely pausing between songs. Ackerman, drummer Robi Gonzalez and bassist Dion Lunadon were only intermittently visible in a sea of smoke, pierced by a frenetic light show and backed by abstract visuals. Ackermann and Lunadon hurled themselves around the stage as a mosh pit that churned below them; this was no polite Tuesday night show. It might be fair to say you can't really get APTBS until you've seen them live, or at least, it's very hard to convey the feeling of their music through a home stereo or some iPhone headphones. APTBS' sound demands darkness, attention and crowd participation to fully land, and over and over on this night, it did.
Band and crowd literally became one during the encore portion of the set, when the band set up just in front of the venue's soundboard to play three more songs as the audience closed in around them, the flashes of smartphone cameras replacing the strobe lights that had been up on the stage. If it didn't quite replicate the intimacy of Death By Audio, it showed that this band deserved to grow to a level well beyond it, and to keep going. They're the kind of band live music was made for, and they did right by us tonight.
I recorded this set with Schoeps MK41 supercardiod microphones set up inside the soundboard cage. APTBS' FOH, Lex, was in charge of the house mix. The sound quality is excellent. Enjoy!
Download the complete set: [MP3] | [FLAC]
Stream the complete set: 

A Place to Bury Strangers
2015-02-17
Music Hall of Williamsburg
Brooklyn, NY USA
Exclusive download hosted at nyctaper.com
Recorded and produced by acidjack
Schoeps MK41 (DFC, at SBD, PAS)>KCY>Z-PFA>Sound Devices USBPre2>Edirol R-44 [OCM]>24bit/48kHz WAV>Izotope Ozone 5 (effects, EQ, imaging)>Adobe Audition CS 5.5 (adjust levels)>Audacity 2.0.5 (track, amplify, balance, downsample, dither)>FLAC ( level 8 )
Tracks [Total Time 57:01]
01 We've Come So Far
02 I'm So Clean
03 Drill It Up
04 Fill the Void
05 Deadbeat
06 [instrumental]
07 Love High
08 Now It's Over
09 I've Lived My Life to Stand In the Shadow of Your Heart
10 You Are the One [played from the floor]
11 Straight [played from the floor]
12 So Far Away [played from the floor]
If you enjoyed this recording, PLEASE SUPPORT A Place to Bury Strangers, visit their website, and buy Transfixiation from Dead Oceans here.