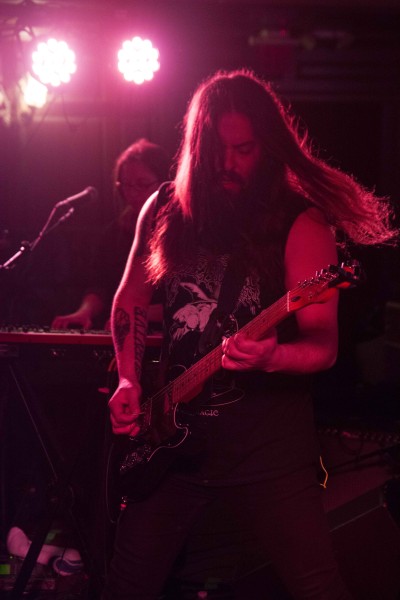 [photo by Austin Jensen]
We've previously discussed the fact that Tim Showalter is simply a good guy — he has a compelling story of redemption, heartfelt lyrics, and close friends with whom he collaborates. Tim is a musician's musician and when we were setting up early for the Tommy Brull Foundation Benefit last weekend we discovered another aspect of his life that impressed us. A big reason why Strand Of Oaks became involved with the Brull Foundation and their charitable work with the special needs Camp Anchor was because when he was younger Tim Showalter worked at a similar camp. Additionally, the Brull Foundation was created in the memory of Tommy, who passed away in a car accident. Tim suffered severe injuries in a near fatal accident a mere 15 months ago. Perhaps buoyed by the inspirational work behind the Benefit show and the memory of Tommy, at this show Strand Of Oaks put forth a performance of remarkable power and beauty. The band worked through nearly all of their breakthrough album HEAL before finishing with a neat Replacements cover, but throughout the set Tim and the band took time to recognize the purpose of the show and the memory of Tommy. For the very sold-out crowd, that recognition was much appreciated because many of the people in attendance either knew Tom or have a connection to Camp Anchor, or both. It takes a conscientious performer to appreciate the importance of occasion and step outside of their stage persona to acknowledge important issues. On this night, Tim Showalter was the right guy for that task.
I recorded this set with the Schoeps on-stage mixed with a board feed. The sound quality is superb. Enjoy!
If you download this recording, you should donate the Brull Foundation. This particular show was a benefit to fund a special needs playground in Rockville Centre and continued contributions to Camp Anchor.
Download the Complete Show [MP3] or [MP3] / [FLAC]
Stream "Goshen 97":

Note: All of the material on this site is offered with artist permission, free to fans, at our expense. The only thing we ask is that you download the material directly from this site, rather than re-posting the direct links or the files on other sites without our permission. Please respect our request, and feel free to repost the Soundcloud links.
Strand Of Oaks
2015-02-07
Tommy Brull Foundation Benefit
Cannon's Blackthorn
Rockville Centre NY
Digital Master Recording
Soundboard + Audience Matrix
Soundboard [engineer Billy] + On-Stage Schoeps CCM4u Cardioids > Sound Devices 744t > 2 x 24bit 48kHz wavs > Soundforge (level adjustments, mixdown, EQ, set fades) > CDWave 1.95 (tracking) > TLH > flac (320 MP3/tagging via Foobar)
Recorded and Produced by nyctaper
Setlist:
[Total Time 1:02:25]
01 HEAL
02 Same Emotions
03 [banter – surfing]
04 Last To Swim
05 Goshen 97
06 For Me
07 JM
08 [banter]
09 Diamond Drill
10 Woke Up To The Light
11 Shut In
12 [banter – Tommy]
13 Plymouth
14 [band introductions]
15 Sterling
16 Alex Chilton [Replacements]
If you enjoyed this recording, PLEASE SUPPORT Strand of Oaks, visit their website, and buy Heal and the band's other records directly from the band here or from Dead Oceans Records [HERE].