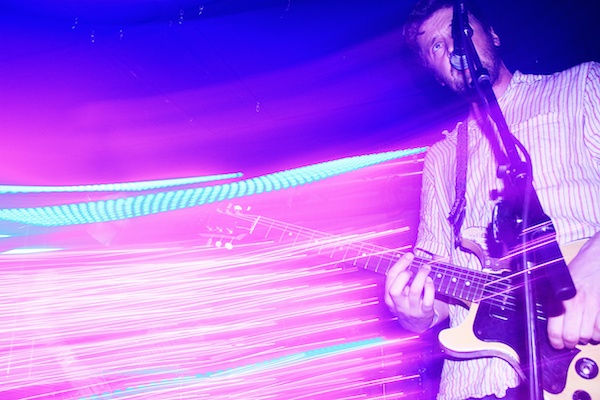 [Photo by Jamie Langley]
Don't be surprised when Pile's latest long-player, You're Better Than This, is all over 2015's year-end lists. It's the most immediately engaging record I've heard all year, and another winner from the folks at Exploding in Sound Records. Pile has been supporting the record with a never-ending tour, putting Rick Maguire high up on the list of hardest working musicians in the game. This Baby's All Right show from April is their second stop in NYC this year, having previously played the grittier Palisades in February. Meanwhile, NYCTaper caught up with the band down in Austin for a short SXSW showcase set back in March (that recording here).
You're Better Than This has put Pile on many people's radars, but it was clear from the crowd that some people have been with Pile all along. Early adopters could be identified as the ones mouthing the words to even older songs like "Pets" from the 2010 self-released album, Magic Isn't Real, as well as "The Browns" and "Grunt Like a Pig" from the 2012 EIS debut Dripping. Though I'm a bit newer to the band, I count myself lucky to have caught them at Baby's—these guys won't be playing 280-capacity rooms for long.
Baby's FOH Harrison Fore recorded this set with a board feed and the Baby's room mics. I mixed those two sources in post-production. The sound quality of this recording is above and beyond even Baby's usual high standards for sound. Enjoy!
Pile will be back around playing The Bell House on July 3. Tickets are still available.
Download the complete show: [MP3] | [FLAC]
Stream the complete show:

Note: All of the material on this site is offered with artist permission, free to fans, at our expense. The only thing we ask is that you download the material directly from this site, rather than re-posting the direct links or the files on other sites without our permission. Please respect our request.
Pile
2015-04-28
Baby's All Right
Brooklyn, NY
Exclusive download hosted at nyctaper.com
Recorded by Harrison Fore
Produced by Eric PH
Soundboard (engineer: Harrison) + Audio Technica 4051 > 4x Mono WAV (24/48) > Adobe Audition CC (align, mixdown) > Izotope Ozone 5 (EQ, exciter) > Audacity 2.0.5 (amplify, fades, downsample, dither, tracking, tagging) > FLAC (16/44.1, level 8)
Tracks [40:32]
01. The World is Your Motel
02. Mr. Fish
03. Baby Boy
04. The Browns
05. Special Snowflakes
06. Grunt Like a Pig
07. Pets
08. Appendicitis
09. #2 Hit Single