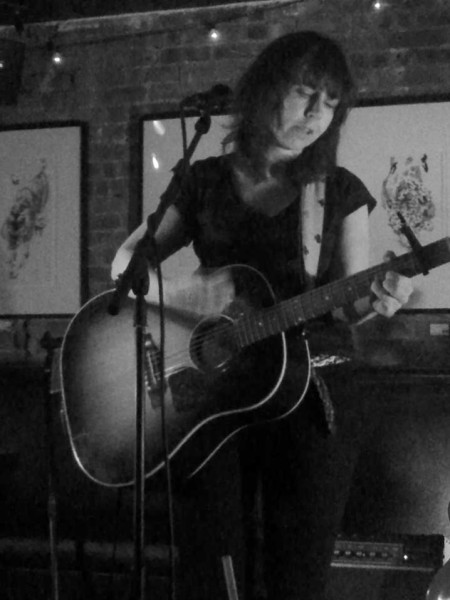 [photo from Amy]
neild reports:
Amy Rigby has been busy musically of late, recording three albums with her husband of seven years, Wreckless Eric, and touring semi-regularly as a duo from their home base in upstate New York. One thing she hasn't done in a while, though, is play solo shows of her own — which is why when she announced a weekly residency at the HiFi Bar on Avenue A (the old Brownie's space, still run by former Brownie's booker Mike Stuto), I immediately canceled my Thursday plans for the month.
The shows did not disappoint in the slightest. HiFi is a cozy space, with a small stage, a pair of booths, and a handful of small tables wedged into what was the Brownie's stage and standing room area — just about perfect for singer-songwritery performances. And as we were quickly reminded, Rigby is an unbeatable singer-songwriter. Whether on her own with acoustic guitar and organ (week one), accompanied by Wreckless Eric on bass and Jon Graboff on pedal steel (week two), or in full-on rock formation with Eric and drummer Jeremy Grites plus special guests Syd Straw and Lenny Kaye (week three, which I sadly missed), she was by turns poignant and hilarious, drawing on songs from her five solo albums (most famously her 1996 solo debut Diary of a Mod Housewife), rarities from her early days with '80s bands Last Roundup and The Shams, and a handful of covers and new songs destined for her in-the-works solo album. (You can read her own recap of all four shows on her must-read Diary of Amy Rigby blog; be sure to scroll back to the ones guest-written by The Bag.)
Week four was possibly the most special of all, if only for the special guest: Amy's daughter Hazel Rigby, who plays bass and sings in the Brooklyn-based indie rock group Outside World. With Hazel on bass and shared vocals, mother and daughter tackled the Last Roundup song "At The Well" ("I was about Hazel's age when I wrote this") plus an outstanding cover of the Flying Burrito Brothers' "Wheels." A few songs later, following a hilariously botched comedy bit involving a cell phone call from backstage, Wreckless Eric joined in for several songs, including "Genovese Bag," Amy's touching love letter to Hazel ("You were Mutt to my Jeff, I was Jack to your Jill") that is possibly the greatest song ever about the joys and pains of parenting.
If the word "hilarious" comes up a lot in this writeup, it will become apparent why once you've heard "Keep It To Yourself," one of the all-time great post-breakup songs. But this was largely a night for gentler emotions, as marked by the song Rigby chose for the closer (before being called back onstage for one final encore): "Don't Ever Change," an achingly sweet but never saccharine ode to the things worth cherishing in life, even if you may not always notice them at the time. Which is a pretty good summary of Amy Rigby's own three-decade-long music career, for that matter — though on these four nights, she definitely got noticed.
This was recorded with Church Audio CA-14 cardioid mics, powered by Church's Ugly battery box, to a Sony PCM-M10 recorder. There is a small fraction of a board feed mixed in for fortification of the vocals and also to lessen the enthusiastic crowd response. Thanks to Amy for permission to record, and to HiFi's Mike Stuto and his soundman whose name I've forgotten for their attentive help and for great room sound. You can buy most of Amy Rigby's records at amyrigby.com, and you will not be sorry if you do.
Download the Complete Show [MP3] / [FLAC]
Stream "Summer of My Wasted Youth":

Amy Rigby
2015-05-28
HiFi Bar
New York, NY
Digital Master Recording
Soundboard + Upfront Audience
Soundboard + Church Audio CA-14 cardioid mics > Church Ugly battery box > Sony PCM-M10 > Soundforge (post-production) > CD Wave > TLH > Foobar (tagging and conversion)
Recorded by neild
Produced by nyctaper
Setlist:
[Total Time 1:24:15]
01 Rode Hard
02 Playing Pittsburgh
03 Dark Angel
04 How When Where
05 Summer of My Wasted Youth
06 [Hazel Rigby intro]
07 At The Well
08 Wheels [Flying Burrito Brothers]
09 As Is
10 Keep It To Yourself
11 Down Side of Love
12 Needy Men
13 [phone call gag]
14 Til The Wheels Fall Off
15 Are We Ever Gonna Have Sex Again
16 [banter – Eric new album]
17 Property Shows
18 Slow Burner
19 Genovese Bag
20 We're Stronger Than That
21 [encore break]
22 Do You Remember That
23 Don't Ever Change
24 [second encore break]
25 Beer and Kisses
If you download this recording from NYCTaper PLEASE SUPPORT Amy Rigby, visit her website, and purchase her official releases from the Shop at her website [HERE].