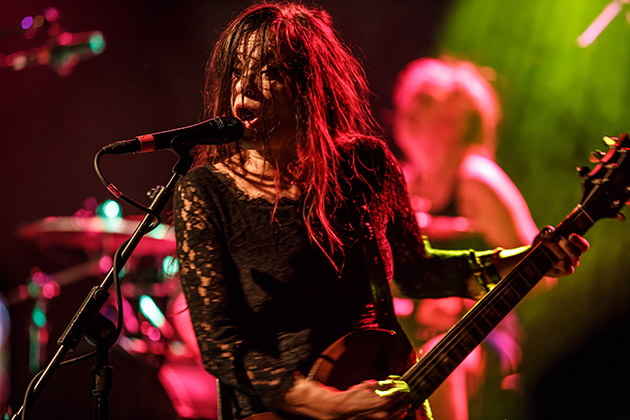 [photos by PSquared Photography]
We have become fairly experienced and well-versed in covering band reunions from the 1980s and 1990s. Whether it be everything from the huge (i.e. Dinosaur Jr.) or the fairly obscure (i.e Cap'n Jazz), these get-togethers seem to follow a basic course — older and wiser forty-somethings re-connect with old friends to play the music that made them great in their youth to older fans who re-live the experience and younger fans who were too young to be there back in the day. Given the blessings of hindsight and sobriety, the formula has been quite successful. For the most part, the reunited bands are tight, more focused and seemingly more appreciative of the experience. The Babes In Toyland reunion had been brewing for a couple of years and began with an announcement that Kat Bjelland and Maureen Herman had begun writing songs together again. When the duo ultimately reunited with drummer Lori Barbero, the band played its first show together in 14 years in Los Angeles in February with a couple of tours to follow. The wrinkle in this reunion occurred at the end of the first leg of the tour when the band amicably split with bassist Herman, whose goodbye message to the fans is one of the classiest breakup announcements we've ever read.
The good news about the Thursday Irving Plaza show arrived early in the week and that was the fact that the night was sold out. The crowd ended up being a nice mix of old punks and newer fans, but all of them brought the energy — the room was buzzing all night. New bassist Clara Salyer debuted with the band in late August and by Thursday, all three band members were truly in sync. Opening with a bang which never let up, Babes In Toyland worked through an hour-long set that touched on all of their original three albums, each song generating a sing-a-long from the crowd. We're streaming "Oh Yeah!" and the single encore "Dust Cake Boy" which I believe were excellent versions of these songs, but really we could have streamed any song, as the show was that tight and well-played.
This leg of the tour is complete, but the band will return next month for more shows on the East coast and the South. Yesterday, Babes in Toyland announced another upcoming NYC show — on October 23 at Saint Vitus.
I recorded this set with the Schoeps cards mounted in the front center of the balcony and mixed with a superb board feed provided by the band's FOH Rubes Harman. Our readers should be familiar with Rubes' terrific mixes from some previous recordings at Baby's All Right, and this mix is equally terrific. The result is that the sound quality is outstanding. Enjoy!
Download the Complete Show [MP3] / [FLAC]
Stream "Oh Yeah!":

Stream "Dust Cake Boy":

Note: All of the material on this site is offered with artist permission, free to fans, at our expense. The only thing we ask is that you download the material directly from this site, rather than re-posting the direct links or the files on other sites without our permission. Please respect our request, and feel free to repost the Soundcloud links.
Babes In Toyland
2015-09-17
Irving Plaza
New York NY
Digital Master Recording
Soundboard + Audience Matrix
Soundboard [Engineer Rubes Harman] + Schoeps CCM4u Cardioids > Sound Devices 744t > 2 x 24bit 48kHz wav files > Soundforge (post-production) > CDWave 1.95 (tracking) > TLH > flac (320 MP3 and tagging via Foobar)
Recorded and Produced by nyctaper
Setlist:
[Total Time 59:15]
01 [introduction]
02 He's My Thing
03 Bluebell
04 Ripe
05 Spit To See the Shine
06 Oh Yeah
07 [thanks]
08 Bruise Violet
09 Right Now
10 Swamp Pussy
11 Won't Tell
12 [banter – Eliot]
13 Drivin
14 Ariel
15 Handsome and Gretel
16 Spun
17 [banter – Rockland]
18 Pearl
19 Vomit Heart
20 Sweet 69
21 [encore break]
22 Dust Cake Boy
If you Download this recording from nyctaper, we expect that you will PLEASE SUPPORT Babes In Toyland, visit their website, and purchase their official releases at your favorite retailer.