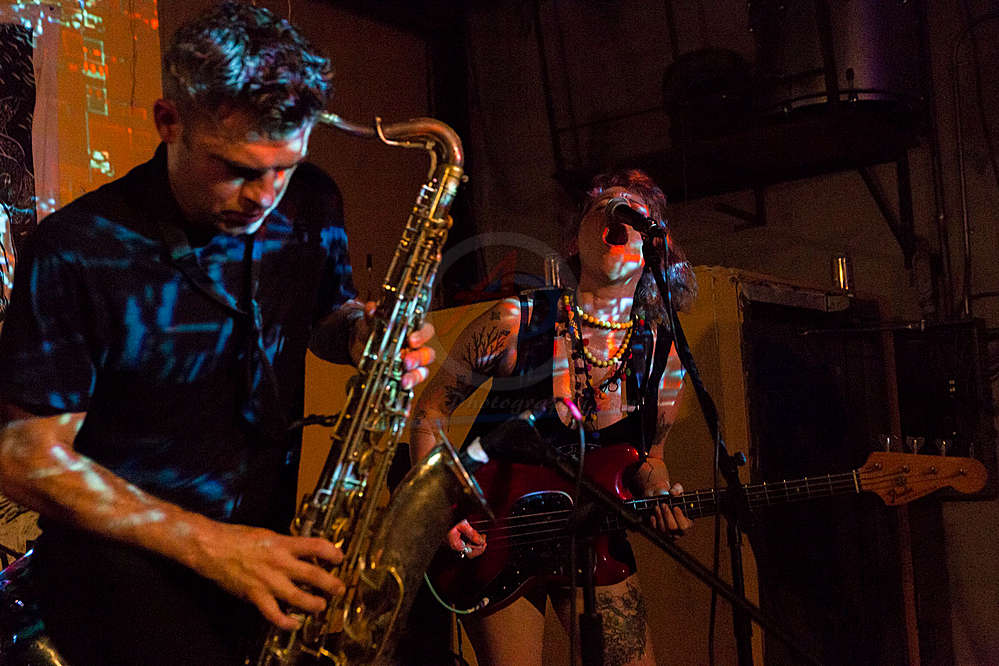 [photos courtesy of Anyane Photography]
Pill were high on my list of experimental Brooklyn bands to see, and it was a treat to catch them on an outstanding bill at Aviv that also included PC Worship and Dope Body (those recordings here and here). Andrew Savage of PC Worship released the band's debut EP on his Dull Tools label, and that's as good a vote of confidence as Pill needs to get listeners' attention. That five-song cycle only hints at what's possible for this young post-punk band, who also proved at this show that they can draw and keep a crowd. Several of these songs are on the EP, but others aren't, so go and check out both.
This is one of those bands that doesn't play nice; their songs aren't the kind of thing you hum at work or jog to on the treadmill. No, Pill's vision is best experienced live, with front woman Veronica Torres writhing on the floor as the Ben Jaffe's saxophone screams along with John Campolo's guitars. Pitchfork's review hailed the complex narratives on offer in Torres' lyrics, and admittedly that's the harder thing to pick up in the live setting, but what it's replaced by is the visceral experience of what she put into them. As the show ended with Torres at the center of the floor, bringing the new song "Psychic Nipple"
I recorded this set with Schoeps MK4V microphones from the center of the balcony and a soundboard feed from house engineer John. The sound quality is like it was in the room, raw and in your face. Enjoy!
Download the complete set: [MP3] | [FLAC]
Stream the complete set:

Pill
2015-09-03
Aviv
Brooklyn, NY USA
Exclusive download hosted at nyctaper.com
Recorded and produced by acidjack
Schoeps MK4V (PAS)>KC5>CMC6 + Soundboard (engineer: John)>>Roland R-26>2×44.1kHz WAV>Adobe Audition CS 5.5 (mix down, compression, fades)>Izotope Ozone 5 (EQ, effects, imaging)>Audacity 2.0.5 (track, amplify, balance, dither)>FLAC ( level 8 )
Tracks
01 Which Is True?
02 Misty-Eyed Porno Reader
03 Hotline
04 Am I Your Man?
05 Personality Flaw
06 Psychic Nipple
If you enjoyed this recording, PLEASE SUPPORT Pill by visiting their bandcamp page and buying their EP there.