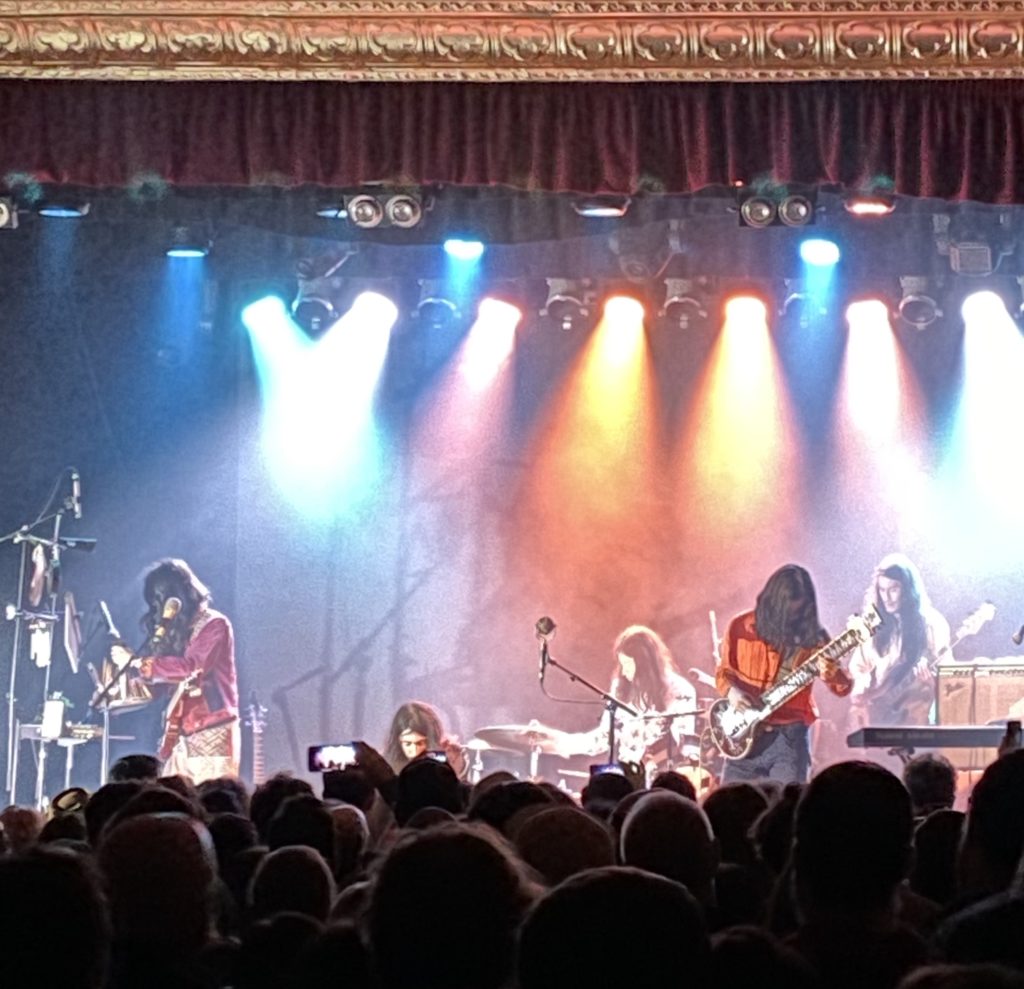 If you're like me, it was our friends at Beyond Beyond Is Beyond who first turned you onto Tokyo's Kikagaku Moyo with their stateside release of the band's second album, Forest of Lost Children. Judging by the sold-out crowd at venerable Greenpoint venue Warsaw this past Friday, quite a lot of people have now gotten the message. Besides the obvious (musicianship, attention to melody), one of the things that makes this band so special is their comfort with different styles, from instrumental jammers like "Dripping Sun" from their current LP Masana Temples, to delicate folk numbers like "Cardigan Song," which they played acoustically along with an unreleased new song they've been working on during this tour. Those barely scratch the surface of all there is to love in this 80-minute set as this band's virtuosity hits its peak, as they draw from both their compatriot forebears like Ghost to the wide world of American classic rock. This night felt like another step in these guys' slow-built success (we saw them at Sunnyvale not that long ago), and we can't wait to hear some of these new tunes laid down on record.
I recorded this set with touring FOH Eric Lemke's feed, plus Schoeps MK41V hypercardiod mics. All credit here goes to Eric, as this room may never have sounded as good as it did for this set. Enjoy!
Download the complete show at the Live Music Archive in MP3/FLAC. Download the Apple Lossless version here: [ALAC].
Kikagaku Moyo
2019-11-15
Warsaw
Brooklyn, NY
Recorded and produced by acidjack
Soundboard (engineer: Eric Lemke) + Schoeps MK41V>KCY>Z-PFA>>Sound Devices MixPre6>24/48 polyWAV>Adobe Audition CC>Izotope Ozone 5>Audacity 2.3.0>FLAC ( level 8 )
Tracks
01 Tree Smoke
02 Nazo Nazo
03 Green Sugar
04 [unknown1]
05 [tuning/banter]
06 unknown2
07 Cardigan Song (acoustic)
08 Entrance
09 Dripping Sun
10 Gatherings
11 [encore break]
12 [unknown3]
13 Smoke and Mirrors
14 [unknown4]
PLEASE SUPPORT KIKAGAKU MOYO & BUY THEIR RECORDS: GuruGuruBrain | Beyond Beyond Is Beyond