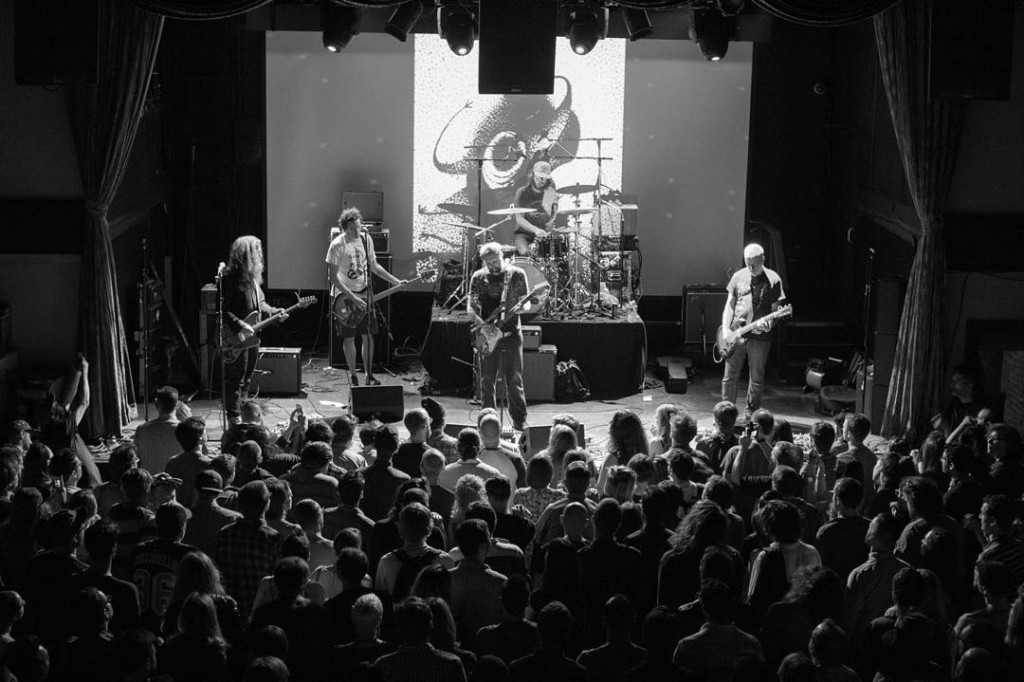 [photo courtesy of Will at We All Want Someone To Shout For blog]
In the lead up to this show I realized that in a few months, it will be twenty years since the first time I saw Built To Spill live. That early 1996 show at the late great Tramps was a revelation — I mean, who knew that a band of guitar wizards could come from a place like Idaho. But from that day forward I've followed Built To Spill and seen them live consistently ever since, close to thirty times. Indeed, they've been on NYCTaper fourteen times. So I think I have a pretty good idea of when the band is playing well and whether a particular show is a good one. Last Friday at Bowery Ballroom, I'm pretty sure I saw one of the best BTS shows of all of them. This was a night that started with a "wow" version of "Time Trap" and never let up. The band is currently on tour in support of their new album Untethered Moon — their first new release in six years. Perhaps its the excitement of the addition of the new songs to the setlist, but there seemed to be a renewed energy on stage, and in the crowd the energy was returned. You can hear from this recording how engaged was the Bowery faithful. We are streaming two highlights from this show (of many). At eight minutes in length, "Velvet Waltz" is one of the longest tracks on one of our favorite BTS albums (Perfect From Now On), and on this night the closing jam just went bonkers and kept the song going for twelve minutes. In the encore segment, the persistent fans who had been calling all night for "Joyride" were treated to an scorching version of one of the band's earliest singles — it was Doug Martsch's best solo in a night filled with them.
I recorded this set from our standard Bowery location. But this one is special. It was mixed perfectly by the band's tour FOH Eric and we used primarily the room mics in this mix. There's about 25% of the board feed to supplement the vocals and overall the sound quality is quite superb. Enjoy!
Download the Complete Show [MP3] / [FLAC]
Stream "Velvet Waltz":

Stream "Joyride":

Note: All of the material on this site is offered with artist permission, free to fans, at our expense. The only thing we ask is that you download the material directly from this site, rather than re-posting the direct links or the files on other sites without our permission. Please respect our request, and feel free to repost the Soundcloud links.
Built To Spill
2015-09-25
Bowery Ballroom
New York NY
Digital Master Recording
Soundboard + Audience Matrix
Soundboard [Engineer: Eric Gilbert] + Schoeps CCM4u Cardioids > Sound Devices 744t > 2 x 24bit 48kHz wav files > Soundforge (post-production) > CDWave 1.95 (tracking) > TLH > flac (320 MP3 and tagging via Foobar)
Recorded and Produced by nyctaper
Setlist:
[Total Time 1:41:02]
01 Time Trap
02 Strange
03 Living Zoo
04 Nowhere Nothin Fuckup
05 Made-Up Dreams
06 Velvet Waltz
07 Heart
08 So
09 Liar
10 Mess With Time
11 Never Be The Same
12 Big Dipper
13 Carry the Zero
14 [encore break]
15 Reasons
16 Joyride
17 [thanks]
18 Goin Against Your Mind
If you download this recording from NYCTaper, we expect that you will PLEASE SUPPORT Built to Spill, visit their website and purchase their new album Untethered Moon from Warner Music [HERE].