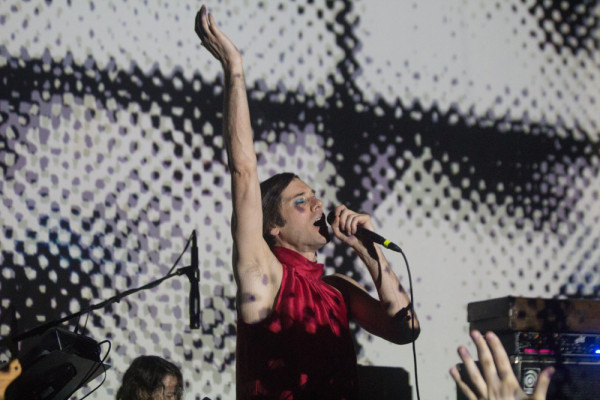 [photos courtesy of Will at We All Want Someone To Shout For blog]
In between 2007 and 2010, we recorded Of Montreal seven times, but in some ways it feels like a lifetime ago since the last time I saw them perform live. It was in January of 2010 at Highline Ballroom when the band delivered another outlandish gig which memorably featured Susan Sarandon applying corporal punishment to a man dressed as a pig, and also saw Kevin Barnes "nailed" to a cross. Those types of stage antics were common for the band at that time — the show at Roseland with a live horse for instance — but it seems that for Barnes the act had reached a saturation point, and frankly for me it had too. Between 2011 and 2013 the band itself seemed to be disintegrating, as is excruciatingly chronicled in the doc-bio The Past Is a Grotesque Animal. Ultimately, in 2013 Barnes and his longtime band departed ways (either fired or quit depending upon who you ask), and Of Montreal became Barnes and a completely different set of musicians.
It was not long after Barnes split up with the long-time band that his marriage was also dissolved. The resultant upheaval led to the dark new album Aureate Gloom released earlier this year on Polyvinyl. While the tour in support of the record isn't exactly a toned-down affair, gone are the days of horses and pope outfits and full-sized wooden crosses. The guest characters still appear in costumes, but the 2015 Of Montreal stage show is more dependent upon the back lighting and at Music Hall of Williamsburg last week, if the star of the show was Barnes, his co-star was the band's computer-generated lighting director, a woman whose name I unfortunately did not catch. The vast arrays of shapes and colors gave a nice flow to the set and created a three-dimensional effect to the music and the pantomime of the guest characters in a way that the massive stage antics of years past had not. The setlist of this show drew virtually all of its numbers from three of the band's 13 albums — the new Aureate Gloom, 2008's Skeletal Lamping, and a full seven tracks from 2007's Hissing Fauna. We are streaming a Hissing Fauna track below that ended the main set. The band's tour continues through mid-November across the US, dates here.
I recorded this set with the Schoeps cards mounted at the Soundboard. The sound quality is excellent. Enjoy!
Download the Complete Show [MP3] / [FLAC]
Stream "A Sentence of Sorts in Kongsvinger":

Note: All of the material on this site is offered with artist permission, free to fans, at our expense. The only thing we ask is that you download the material directly from this site, rather than re-posting the direct links or the files on other sites without our permission. Please respect our request, and feel free to repost the Soundcloud links.
Of Montreal
2015-09-18
Music Hall of Williamsburg
Brooklyn NY
Digital Master Recording
Recorded Inside SBD Cage
Schoeps CCM4u Cardioids > Sound Devices 744t > 24bit 48kHz wav > Soundforge (post-production) > CDWave 1.95 (tracking) > TLH > flac (320 MP3 and tagging via Foobar)
Recorded and Produced by nyctaper
Setlist:
[Total Time 1:45:09]
01 Lanc's Theme
02 Bassem Sabry
03 Triumph of Disintegration
04 Suffer for Fashion
05 Empyrean Abattoir
06 [banter – Taylor]
07 Gratuitous Abysses
08 Bunny Ain't No Kind of Rider
09 Id Engager
10 Beware Our Nubile Miscreants
11 Like Ashoka's Inferno of Memory
12 Obsidian Currents
13 And I've Seen a Bloody Shadow
14 Plastis Wafer
15 [Rave]
16 The Party's Crashing Us
17 Gronlandic Edit
18 A Sentence of Sorts in Kongsvinger
19 [encore break]
20 For Our Elegant Caste
21 She's a Rejecter
22 Heimdalsgate Like a Promethean Curse
23 The Past Is A Grotesque Animal
If you download this recording from NYCTaper, we expect that you will PLEASE SUPPORT Of Montreal, visit their website, and purchase their new release Aureate Gloom from the Polyvinyl website [HERE].