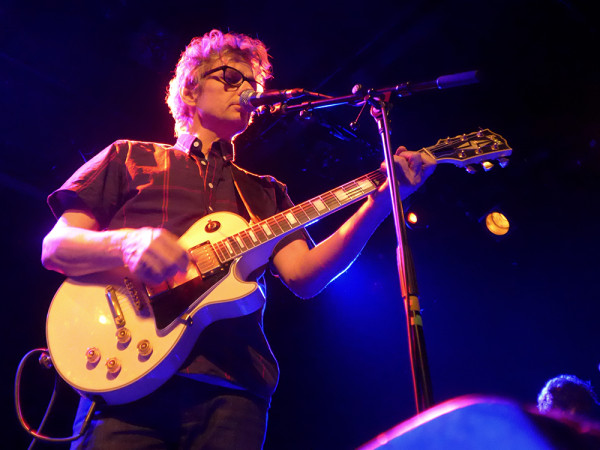 [photo by Joakim Bengtsson from A Head Full of Wishes]
One of the nicer things about this superb Luna reunion tour has been the band's acknowledgement of their own history. In Atlanta, Luna performed the entire Penthouse record from start to finish (recording here), and earlier in the week of New York shows, the Bowery Ballroom night was a chance to acknowledge the location of their final pre-reunion show in 2005 and the excellent documentary Tell Me Do You Miss Me of that tour (recording here).
In Brooklyn, the band welcomed back the original drummer Stanley Demeski, the legendary percussionist from the Feelies who was the behind the kit for the first three Luna albums, including the aforementioned Penthouse. At this special night in Brooklyn, Demeski added a nice extra set of skins to three songs for which he played on the original recordings, including a particularly memorable "23 Minutes in Brussels". The guest appearance was the highlight of one of the best played shows of the tour and what is also one of the longer sets of the reunion shows.
Kubacheck recorded this show from a stand at the right nook in front of the soundboard booth with his excellent MBHO cards, and the sound quality is outstanding. Enjoy!
Download the Complete Show [MP3] / [FLAC]
Stream the Complete Show (banter tracks removed):

Note: All of the material on this site is offered with artist permission, free to fans, at our expense. The only thing we ask is that you download the material directly from this site, rather than re-posting the direct links or the files on other sites without our permission. Please respect our request, and feel free to repost the Soundcloud links.
Luna
2015-10-09
Music Hall of Williamsburg
Brooklyn NY
Digital Master Audience Recording
Recorded from Front of Soundboard
MBHO 603a – KA-500 > Naiant Tinybox > Roland R-05 > 24bit 48kHz wav file > Soundforge (level adjustments, EQ, set fades) > CDWave 1.95 (tracking) > TLH > flac (320 MP3 and tagging via Foobar)
Recorded by Kubacheck
Produced by nyctaper
Setlist:
[Total Time 1:47:05]
01 California
02 Pup Tent
03 Cindy Tastes of Barbecue
04 Sideshow by the Seashore
05 Still at Home
06 Malibu Love Nest
07 [banter – SeanEdenQuotes]
08 Tiger Lily
09 Tracy I Love You
10 Lost in Space
11 [Stan Demeski intro]
12 Twenty Three Minutes in Brussels
13 Chinatown
14 Friendly Advice
15 Bewitched
16 Bonnie and Clyde
17 Time to Quit
18 [encore break]
19 Season of the Witch [Donovan]
20 Indian Summer
21 [second encore break]
22 Fuzzy Wuzzy
If you Download this recording from nyctaper, we expect that you will PLEASE SUPPORT Luna, visit their website, and purchase their official releases from the links at their website, from Bandcamp and the Long Players Box Set from Captured Tracks Records [HERE].