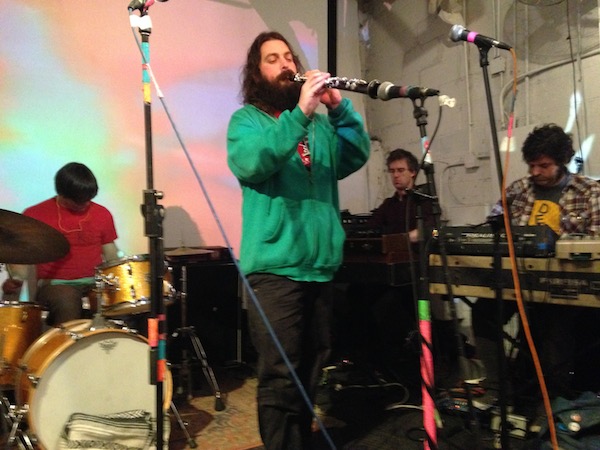 There is no band more emblematic of the Brooklyn music community than Oneida. From jam sessions in the band's former Ocropolis studio to the Thank Your Parents weekender; from Brahloweens past to the NYCTaper Anniversary show; from the holiday Oneida Fest at the old Knit to this year's Thanksgiving potluck, there's a truly unique binding of community around Oneida's music. On the weekend before Thanksgiving, friends and family gathered for a celebration of music and food. Admission was free at the door if you brought food and I can almost guarantee not a dollar was exchanged. Around two full tables of food including a turkey, plus all the trimmings and desserts you could imagine, friends old and new gathered to eat off paper plates and see two long-form Oneida sets bookending a set from New Pope (featuring Bobby and Kid Millions of course). For the first set Oneida is joined by Dave Kadden on clarinet; and for the second it's an epic, extended nine-piece Oneida barreling through forty improvised minutes. To give thanks for Oneida seems a bit silly when there are so many other things to be thankful for. Yet there's something here greater than just a band or a collection of songs and records—and it's that intangible greater thing, call it community or simply shared experience, for which we can all be thankful.
I recorded this set with the AKG's flown high at the back of the room, with a board feed from Secret Project Robot FOH Erik, which supplied much of the vocals. The sound isn't perfect, but it captures an event. Enjoy!
Download the complete show: [MP3] | [FLAC]
Stream the complete show: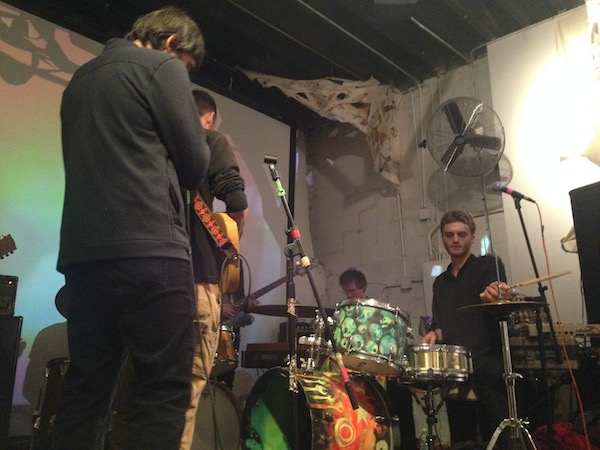 Oneida
2015-11-21
Secret Project Robot
Brooklyn, NY
Exclusive download hosted at nyctaper.com
Recorded and produced by Eric PH
Soundboard (engineer: Erik) + AKG C480B/CK61 > Roland R-26 > 2xWAV (24/48) > Adobe Audition CC (align, balance, compression, mixdown, normalize, fades) > Izotope Ozone 5 (EQ) > Audacity 2.0.5 (downsample, dither, tracking, tagging) > FLAC (16/44.1, level 8)
Tracks [1:16:29]
01. Potluck Improvisation 1
02. Potluck Improvisation 2
If you enjoyed this recording, PLEASE SUPPORT Oneida. Visit their website, like them on Facebook, and buy the Positions EP from Rocket Recordings.