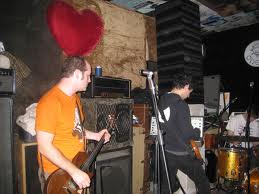 [Photos courtesy of Jim Dalton]
This Saturday, we went on a journey with the band Oneida that began at 1pm and ended at well after midnight on the following day. Continuing one of the band's most exciting and ambitious traditions, the band performed six improvisational sets for a select audience in their private Williamsburg studio and rehearsal space known as the Ocropolis. The impetus in this case was disaster relief for the people of Japan – in particular, an effort organized by Shinji Masuko of the Boredoms for Japanese artists and musicians who may fall outside of some more traditional safety nets – and we are sure that both the donations and the inspiration will be warmly received by our brethren in the Far East.
Ambition is an important word to consider when reflecting upon these performances. A band that released a 3xCD set (the critically lauded Rated O) in 2009, Oneida have never been particularly respectful of the commercial strictures of modern bands. And with a fan base that revels in their ability to test the sonic limits at every show, they haven't had to be. Armed with the freedom to do what they want and the courage to actually do it, Oneida can make some fucking incredible noise.
The level of musicianship required to create these 35-45 minute improvisations cannot be understated. Like the bastard child of free jazz, minimalism, punk and rock n roll, these sets managed to explore a huge range of textures, sounds and moods while remaining cohesive and captivating. Throughout each, we were buoyed by a sea of perfect beats by wunderkind drummer Kid Millions (whose snare hits threatened to overwhelm the first set's mix entirely) as organist/guitarist Bobby Matador, guitarist/bassist Hanoi Jane, guitarist Shahin Motia, and organist Barry London created an intense vortex of sound. Fittingly, the highlight of the entire day was the climactic final set, a 40-minute slab of deadly psych rock that left us all reeling. It would be days before we could fully process what had taken place before us – longer still for our ears to stop ringing. Despite being a band with musical ambitions so huge, Oneida had once again fulfilled them.
We recorded this set with six high-end microphones placed strategically around the room to capture the full breadth of the band's sound. You may notice some differences in sound between the sets as we moved microphones around to achieve optimal placement.
Special thanks to Oneida for inviting us to be a part of this extraordinary event. Watch for their next Ocropolis event, a multi-day art and music installation at Secret Project Robot, where they will do a series of full-album performances of the Thank Your Parents trilogy.
Please note that because this was a charity event, you will be expected to donate an amount of your choosing to Shinji Masuko's Japan relief PayPal account in order to download the recordings. Once you have forwarded your receipt to [email protected], you will be given the location of the FLAC and MP3 files.
DONATE BY SENDING A PAYPAL PAYMENT TO SHINJI MASUKO AT [email protected]
MORE ABOUT SHINJI'S CHARITY EFFORTS [HERE] [HERE] and [HERE]
Stream a sample of the sixth and final set:
[audio:http://www.nyctaper.com/O8020Oneida3329/OcropolisIVsample.mp3]
Oneida
2011-04-02
Ocropolis IV
The Ocropolis
Brooklyn, NY  USA
Digital Master Recording
Premiere download offered at nyctaper.com
Recorded by nyctaper and acidjack
Produced by acidjack
AKG C 414 B-XLS (wide cardiod mode)+DPA 4021+Neumann KM150>Tascam DR-680 (24/48)>6x24bit/48kHz WAV>Audacity (mixdown, set fades, smooth peaks, level adjustments, amplify and balance, downsample)>FLAC ( level 8 )
Afternoon Session
Set I
01 Introduction [Afternoon Set I]
02 Improvisation [Afternoon Set I]
Set II
01 Improvisation [Afternoon Set II]
Set III
01 Improvisation [Afternoon Set III]
Evening Session
Set I
01 Improvisation [Night Set I]
Set II
01 Improvisation [Night Set II]
Set III
01 Improvisation [Night Set III]
In addition to supporting Oneida's designated Japan relief organization, we expect that you will PLEASE SUPPORT Oneida, visit their website, visit their MySpace page, visit their page at Jagjaguwar Records, and purchase the latest CD Rated O at the Jagjaguwar site [HERE] and their earlier releases [HERE].