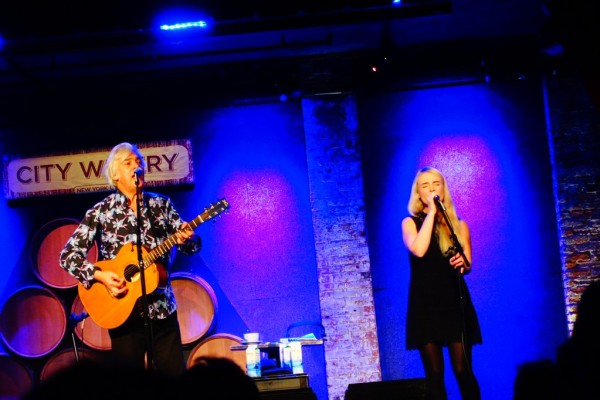 [photo courtesy of Chris Quartly]
There are a few things you can expect at any given Robyn Hitchcock performance — namely humourous and often strange banter, a completely different setlist from the last time you saw him, and ninety minutes of entertainment. Robyn has been a profoundly influential and productive artist for the better part of four decades in a series of different bands and in many different formats. Its truly inexplicable why he does not receive the accolades of some of his contemporaries but he doesn't seem fazed by it all. For the City Winery shows this past week, Robyn added a new wrinkle. For the November 20th shows (early and late), he promised vintage material and accepted requests, "everything considered, nothing guaranteed." Fortunately for Andrew our taper on the scene, Robyn played his request "The Ghost Ship", an ancient b-side that ultimately saw wide release on 1995's You & Oblivion. The balance of the setlist drew primarily from the early catalog, including quite a few from the late-80s set of Eqyptians records. Robyn was joined midset by the Australian singer-songwriter Emma Swift, who provided ethereal backing and duo vocals, the most memorable of which was her turn in "Pale Blue Eyes" during the all-covers encore segment.
Robyn Hitchcock recently announced more tour dates, which includes a return to the NYC area in January. All dates here.
Andrew recorded this set with the Sennheiser compact omni microphones mounted on a stand at the soundboard area. As this was a quiet acoustic show essentially in an active restaurant, there is quite a bit of typical ambient noise. Additionally, in post-production, I had to manually reduce each burst of crowd cheering following the songs but the crowd can still be a bit overwhelming at times. With those caveats, enjoy!
Download the Complete Show [MP3] / [FLAC]
Stream the Complete Show (banter removed):

Robyn Hitchcock
2015-11-20
Early Show
City Winery
New York NY
Digital Master Recording
Recorded at Soundboard area
Sennheiser MKE-2s > Zoom H4 > 24bit 48kHz wav file > Soundforge (level adjustments, mixdown, EQ, set fades) > CDWave 1.95 (tracking) > TLH > flac (320 MP3 and tagging via Foobar)
Recorded by Andrew Lowden
Produced by nyctaper
Setlist:
[Total Time 1:35:32]
01 Mexican God
02 Balloon Man
03 My Wife and My Dead Wife
04 [banter – tiny towels]
05 The Ghost Ship
06 [banter – early divorces]
07 The Devil's Coachman
08 [banter – psychic payload]
09 San Francisco Patrol
10 Trouble In Your Blood
11 [banter – banjo]
12 Death and Love
13 Goodnight I Say
14 [banter – beanbags]
15 I'm Only You
16 Nietzche's Way
17 Linctus House
18 [banter – harmonica holder]
19 Queen Elvis
20 [encore break]
21 River Man [Nick Drake]
22 Pale Blue Eyes [Velvets]
23 Motion Pictures [Neil Young]
If you Download this recording from NYCTaper, we expect that you will PLEASE SUPPORT Robyn Hitchcock, visit his website, and purchase his official releases from the Store at his website [HERE].