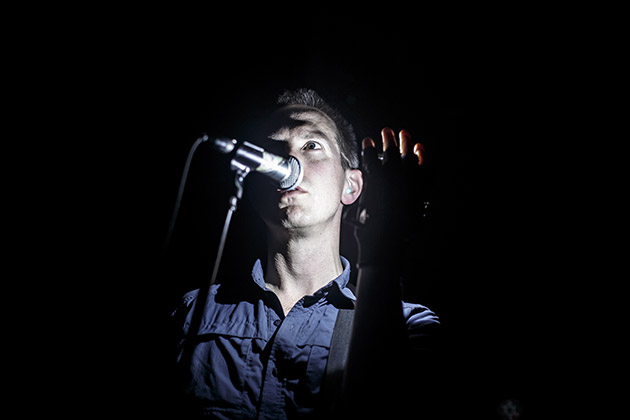 [photos by PSquared Photography]
I'm a big fan of intelligent and accomplished musicians — the type of people who don't just play music but thrive at other vocations. Recently we enjoyed the music of fashion icon Preetma Singh, mathematics whiz Kiran Gandhi, composing genius Owen Pallett, award-winning novelist John Darnielle, and others. On Friday at Mercury Lounge, it was Jonathan Meiburg of Shearwater, who besides fronting an outstanding band is also a renowned ornithologist, or a bird expert, who has been profiled in Scientific American.
Meiburg's dual expertise results in some consistent themes in Shearwater's music. The lyrical content includes many references to nature, with two of the albums actually called Animal Joy and The Golden Archipelago. Last month, Shearwater released their eighth full-length record Jet Plane and Oxbow and its been described as a "protest album" which given current climate science, would seem to be an instinctual reaction for someone in tune with the natural world. At Mercury, the band played eight of the eleven songs on the new album (along with three classics and one cover) and the entire event was truly breathtaking. The show began with a single white light illuminating Jonathan's face as the band began the set with the album's opening track "Prime", a song that offers dual themes of tragic love and a natural world on the precipice of danger. The set continued in dramatic fashion until book-ended by the album's closing track the somber "Stray Light at Clouds Hill", a song that shares a lyrical refrain with "Prime" but mourns both human and natural death. For an "encore" (the band never actually left the stage), Meiburg offered a heartfelt tribute to the late David Bowie by pointing out that the album Lodger helped him through some difficult times, before the band broke into a powerful version of "Look Back in Anger". It was a compelling and appropriate end to what was most certainly one of the best shows we will see all year. Shearwater is currently on tour in Europe but will return to the US in March, including a show back in NYC at Bell House on March 12. Our local readers would be wise to attend that show.
I recorded this set with the Schoeps mounted at the soundboard booth and mixed with an extraordinarily well-mixed board feed by the band's very talented touring FOH (whose name I did not get, please provide if you know ). The sound quality is superb. Enjoy!
Download the Complete Set [MP3] / [FLAC]
Stream the Complete Set [banter tracks removed]:

Shearwater
2016-02-06
Mercury Lounge
New York NY
Digital Master Recording
Soundboard + Audience Matrix
Soundboard + Schoeps CCM4u Cardioids > Sound Devices 744t > 2 x 24bit 48kHz wav files > Soundforge (post-production) > CDWave 1.95 (tracking) > TLH > flac (320 MP3 and tagging via Foobar)
Recorded and Produced by nyctaper
Setlist:
[Total Time 1:02:44]
01 Prime
02 Filaments
03 [banter – crows]
04 A Long Time Away
05 Rooks
06 [banter – uncomfortable dislocation]
07 Quiet Americans
08 You As You Were
09 Wildlife in America
10 [banter – louder]
11 Pale Kings
12 [band introductions]
13 Backchannels
14 [banter – Lodger]
15 Stray Light at Clouds Hill
16 [banter – thanks]
17 Look Back in Anger [Bowie]
SUPPORT Shearwater: Website | Facebook | Twitter | BUY Jet Plane and Oxbow