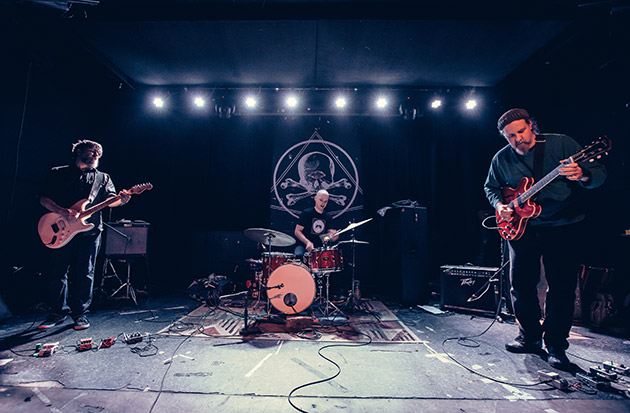 [photos by PSquared Photography]
When the first Rangda record, False Flag, arrived in 2010, it was a transmission out of the multiverse—from an alternate reality where Corsano, Bishop, and Chasny wielded their instruments for evil instead of good. The roaring cacophonies bore titles like "Waldorf Hysteria," "Bull Lore," "Fist Family," "Sarcophagi," and "Serrated Edges" (to literally list in order the first five of the six songs on that record), ensuring that Rangda was not for the psych-tourist or those with pacemakers. At the time, who knew if these three could sustain this cosmic energy, or even find overlap in three busy touring schedules to make Rangda more than a one-off supergroup.
Two albums later, even if they aren't the most prolific band out there, Rangda is sticking around. 2012's Formerly Extinct softened their approach only slightly, trading in the instrumental clash for interlocking rhythms and something resembling rock songs. Their latest, The Heretics Bargain, continues on that trajectory, making Rangda downright palatable. Songs like "The Sin Eaters" and "Spiro Agnew" sound upbeat, anthemic even. But if the album itself isn't proof Rangda is drawing the newly-initiated, last week saw the band play their largest yet NYC venue and crowd, with a set focused most-heavily on Formerly Extinct and the new material.
False Flag is here represented by the sole "Bull Lore."  Formerly Extinct by "Majnun," "Silver Nile," "Idol's Eye," "The Vault," and "Plugged Nickel."  From The Heretic's Bargain, it's "The Sin Eaters," "To Melt the Moon," "Spiro Agnew," and the song nearly as long as its title, "Mondays Are Free at the Hermetic Museum." For opening night of their tour, the band is on fire. I can only imagine the many realities ahead.
Rangda may be coming to your very hometown! Full tour dates over at Drag City.
I recorded this set from our usual location at Saint Vitus, the room mics combined with a board feed from FOH Nick. I mixed those two sources, favoring the room sound. The quality is outstanding. Enjoy!
Download the complete show: [MP3/FLAC]
Stream the complete show: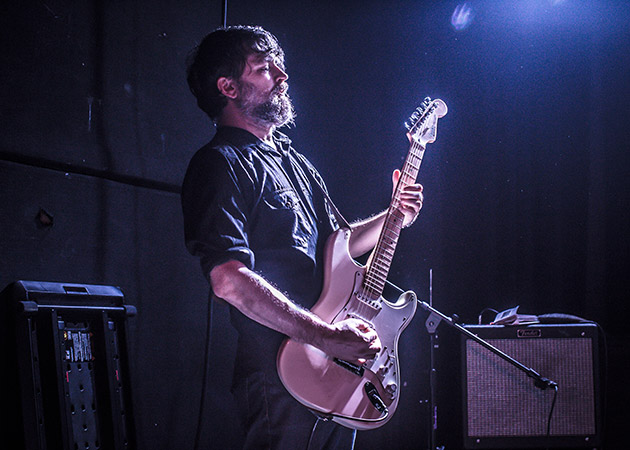 Rangda
2016-03-04
Saint Vitus
Brooklyn, NY
Exclusive download hosted at nyctaper.com
Recorded and produced by Eric PH
Soundboard (engineer: Nick) + AKG C480B/CK61 > Roland R-26 > 2xWAV (24/48) > Adobe Audition CC (align, mixdown, compression, normalize, fades) > Izotope Ozone 5 (EQ, exciter) > Audacity 2.0.5 (downsample, dither, tracking, tagging) > FLAC (16/44.1, level 8)
Tracks [56:36]
01. Majnun
02. The Sin Eaters
03. Bull Lore
04. [tuning]
05. To Melt the Moon
06. Silver Nile
07. [tuning]
08. Idol's Eye
09. Spiro Agnew
10. [tuning]
11. The Vault
12. [tuning]
13. Plugged Nickel
14. [tuning]
15. Mondays Are Free at the Hermetic Museum
Support Rangda: Buy The Heretic's Bargain and other records from Drag City