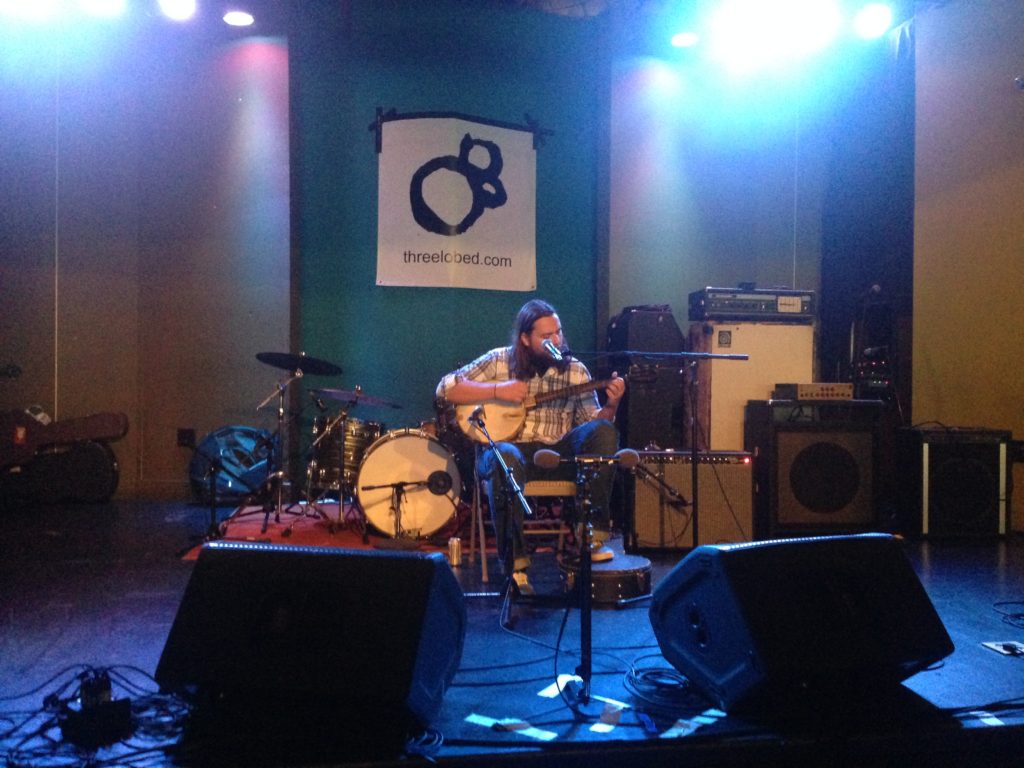 [photo courtesy of Eric PH]
Nathan Bowles has made in appearance in all kinds of bands connected to Three Lobed Recordings in one way or another, from Pelt to the Black Twig Pickers to Hiss Golden Messenger to Steve Gunn's band to his own fine work. And that's not even solely as a banjo player, either; Bowles is an accomplished drummer, as his work with Gunn in particular has shown. As essential as he has been to the greater Three Lobed family, it was of course an honor to have him for the label's sixteenth birthday party.
Originally slated to be a bit of a reprise of his 2014 duo performance with Daniel Bachman here at King's in Raleigh, NC, this set ended up being a special kind of Bowles solo show, as he tried out some new material slated to appear on his forthcoming album on Paradise of Bachelors. The thirteen-minute "I Miss My Dog," which Bowles recently performed at Pickathon, is as powerful a statement as he has made musically, and furthers the notion that his command of this instrument is not about some kind of "revival" but rather a true evolution. You have only to listen to the short and sweet "Burnt Ends Rag" that came after it to understand what a talent Bowles is, and why we'll be so fortunate to see him in so many different settings in the years to come.
I recorded this set in the same manner as the other recordings of the day, with a soundboard feed from engineer Justin Perrachon and a combination of onstage and audience mics. The sound quality is excellent. Enjoy!
Download the complete set: [MP3/FLAC]
Stream the set (minus banter tracks):

Nathan Bowles
2016-03-26
Three Lobed Sweet Sixteen Spectacular
King's
Raleigh, NC USA
Exclusive download hosted at nyctaper.com
Recorded and produced by acidjack
2x Soundboard channels (engineer: Justin Perrachon) + MBHO 603a/KA200N (FOB, DFC, PAS) + Schoeps MK22 (onstage, ORTF, DFC)>KC5>CMC6>Aeta PSP3 >> Zoom F8>6x24bit/48kHz WAV>Adobe Audition CS 5.5 (align, mix down, compression)>Izotope Ozone 5 (EQ, effects)>Audacity 2.0.3 (track, amplify, balance, downsample, dither)>FLAC ( level 8 )
Tracks
01 [intro]
02 Words Spoken Aloud
03 [tuning/banter]
04 I Miss My Dog
05 [banter2]
06 Burnt Ends Rag
If you enjoyed this recording, PLEASE SUPPORT Nathan Bowles, visit his website, and buy Nansemond from Paradise of Bachelors.