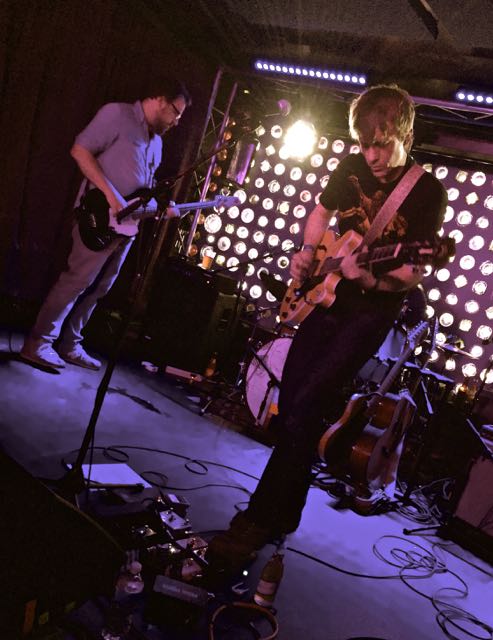 Steve Gunn is having a blockbuster spring, having signed recently to Matador Records, and announcing that he'll be joining Wilco on their spring tour. Gunn's music has been one of building slowly but methodically as he nurtured different aspects of his talent, from his early solo work, to his partnership with John Truscinski on two outstanding records, to his second solo phase represented by Time Off and Way Out Weather, two fine records that have launched him onto the bigger stages he deserves. This show at Baby's All Right represented the end of Steve's recent tour with the "Way Out Band" comprised of site favorite Nathan Bowles on drums, Jason Meagher on bass, and Paul Sukeena on guitar, and it may be the last proper club show for Gunn for a while.
While Steve's tours have been increasingly turning up newcomers, there to see what the buzz is about, this show was all about the hometown crowd, with the front rows lined with Steve's personal friends and musical associates, alternating love and tipsy-but-gentle heckling. The set reflected the mood, with the band serving up long-form, loose versions of Time Off and Way Out Weather regulars. "Old Strange" set the tone, with its hypnotic opening riff, and the songs that joined it kept up its feel, with Gunn and Sukeena trading guitar lines while Bowles and Meagher kept the beat. If the slightly different band (trading Sukeena for Jim Elkington) at the 2014 Rough Trade show felt like a band growing into itself, this one was that almost-same group spreading its wings, even more road-confident than when they returned to the area back then. "Street Keeper" was a new addition I hadn't heard at recent NY shows, making this a winner setlist- as as well as performance-wise.
You can catch Steve Gunn this spring with Wilco; please show up early and make him feel welcome in those large arenas!
Kevin Mazzarelli mixed this live set and recorded various tracks to Pro Tools; I mixed and mastered them. The sound quality is outstanding. Enjoy!
Download the complete set: [MP3] | [FLAC]
Stream the complete set and download individual tracks:

Steve Gunn
2015-04-01
Baby's All Right
Brooklyn, NY USA
Exclusive download hosted at nyctaper.com
Recorded and live engineered by Kevin Mazzarelli
Produced by acidjack
6 digital soundboard tracks + Audio Technica 4051>Pro Tools>8x24bit/48kHz WAV>Adobe Audition CS 5.5 (mix down, hard limiter, compression)>Izotope Ozone 5 (EQ, effects)>Audacity 2.0.5 (track, amplify, balance, downsample)>FLAC ( level 8 )
Tracks [Total time: 57:14]
01 Old Strange
02 Water Wheel
03 [banter]
04 Wildwood
05 [banter2]
06 Milly's Garden
07 [banter3]
08 Street Keeper
09 [banter4]
10 Way Out Weather
11 Tommy's Congo
Band:
Steve Gunn – vocals, guitar
Paul Sukeena – guitar
Jason Meagher – bass
Nathan Bowles – drums
If you enjoyed this recording, PLEASE SUPPORT Steve Gunn, visit his website, and buy his albums, all of which have "buy" links here.