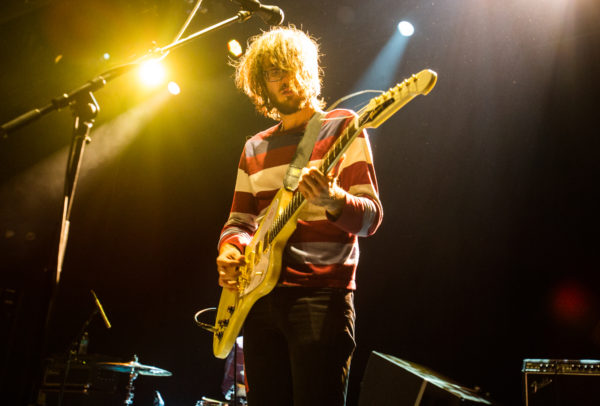 [photos by Will Oliver of We All Want Someone blog]
Its been nearly seven years since Cloud Nothings last graced the pages of this site. At that point, eighteen-year old Dylan Baldi's band played an opening slot on a Northside Festival event at Mercury Lounge and stole the show. Our acidjack foresaw big things for Cloud Nothings back then, and he was prescient. This decade the band has released four outstanding albums, including two "Best New Music" awards from Pitchfork, has toured the world, played most major festivals and generally have remained one of indie rock's most consistently excellent acts.
In January, Cloud Nothings released Life Without Sound (Carpark Records) which represents a bit of a departure for the group. The band brought in legendary engineer/producer John Goodmanson (Death Cab for Cutie, Sleater-Kinney) and the result is a dense and richer sound — long gone are the days when Cloud Nothings could be called "lo-fi" by lazy reviewers. The new album also represents a maturing the Baldi's songwriting and throughout the tour in support of this record the band has been all business. This past week at Webster Hall, that approach translated into a full-powered set long on songs and short on banter. Cloud Nothings were non-nonsense as they ripped through a setlist that concentrated on Life Without Sound but was also drew from the previous two albums. Baldi's crunchy guitar and vocals were out front and the packed-in crowd were treated to a set that never let up in energy until the fans called the band back for two encores, including a noise-propelled extended finale of "Wasted Days". Cloud Nothings will be on tour throughout February across the US, before they play in Europe in March, all dates [HERE].
I recorded this set with the Schoeps clamped out in front of the soundboard booth in the balcony and mixed with a board feed. The sound is clear and upfront. Enjoy!
Download the Complete Show [MP3] / [FLAC]
Stream the Complete Show:

Cloud Nothings
2017-02-01
Webster Hall
New York NY
Digital Master Recording
Soundboard + Audience Matrix
Soundboard + Schoeps CCM4u Cardioids > Edirol R-44 (Oade Concert Mod) > 2 x 24bit 48kHz wav files > Soundforge (level adjustments, mixdown, EQ, set fades) > CDWave 1.95 (tracking) > TLH > flac (320 MP3 and tagging via Foobar)
Recorded and Produced by nyctaper
Setlist:
[Total Time 1:11:46]
01 Up to the Surface
02 Pattern Walks
03 Modern Act
04 Sight Unseen
05 Now Hear In
06 Stay Useless
07 Darkened Rings
08 Enter Entirely
09 Psychic Trauma
10 Things Are Right With You
11 Internal World
12 I'm Not Part of Me
13 Realize My Fate
14 [encore break]
15 Fall In
16 Wasted Days
SUPPORT Cloud Nothings: Website | Facebook | Purchase Life Without Sound