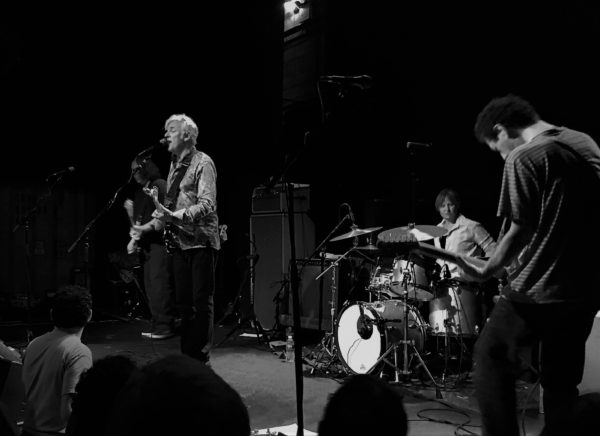 [photo by nyctaper]
It was twenty years ago this month that I recorded Robyn Hitchcock at the old Knitting Factory on Leonard Street from the first row of the balcony when that venue still had seats upstairs. That recording has for years been one of my favorite Robyn recordings in large part because the banter is both hilarious and sublime in his very unique stream-of-consciousness manner. I saw Robyn Hitchcock many times in that era, mostly as a solo performer sometimes accompanied by the great Deni Bonet. It wasn't until a decade later that I saw Robyn with a full band — that 2007 tour featured the Venue 3 (Peter Buck, Scott McCaughey, Bill Rieflin) — in the very same Leonard Street spot. The two shows were entirely different musical experiences and proved the versatility of this prolific performer.
It took another decade, and a completely different full band for me to experience Robyn again. This time it was in a two-set affair with the first session featuring a complete performance of his first solo album Black Snake Diamond Röle and a second act consisting of rare tracks, covers and a few familiar standards extending all the way back to the 1970s Soft Boys period. At Rough Trade on Tuesday night, the Brit ex-pat was less interested in monologues and more focused on the songs — many of which had not been performed in years and perhaps decades. The result was a stunning display of musical dexterity and proof positive that Hitchcock is perhaps the most overlooked living genius of the last half-century of modern music. The second set highlights included Robyn's tribute to his Soft Boys bandmate Kimberly Rew in the performance of "Goin Down to Liverpool" and the a spot-on version of mega-influence Syd Barrett in Pink Floyd's first album stand-out "Lucifer Sam".
I recorded this set with the Schoeps mounted centered inside the soundboard booth. This straight audience recording accentuates the superb room mix of one the best FOH pros in the business, Mark Luecke, and the credit for the superb sound goes directly to him. This is truly one of the best audience recordings we've ever featured on this site. Enjoy!
Download the Complete Show in FLAC or MP3 at Archive.org [HERE]
Stream the Complete Show:

Robyn Hitchcock
with Yo La Tengo
2017-02-28
Rough Trade
Brooklyn NY
Digital Master Audience Recording
Recorded inside Soundboard Booth
Schoeps CCM4u Cardioids > Sound Devices 744t > 2 x 24bit 48kHz wav files > Soundforge (post-production) > CDWave 1.95 (tracking) > TLH > flac (320 MP3 and tagging via Foobar)
Recorded and Produced by nyctaper
Setlist:
[Total Time 1:45:55]
Set 1 (Black Diamond Snake Role)
01 The Man Who Invented Himself
02 Brenda's Iron Sledge
03 Do Policemen Sing
04 The Lizard
05 Meat
06 [band introductions]
07 Acid Bird
08 I Watch the Cars
09 Out of the Picture
10 City of Shame
11 Love
Set 2
12 [introduction]
13 Wey Wey Hep Uh Hole
14 All I Wanna Do Is Fall in Love
15 It's a Mystic Trip
16 A Skull, a Suitcase, and a Long Red Bottle of Wine
17 I Got a Message for You
18 Ye Sleeping Knights of Jesus
19 Going Down to Liverpool [The Waves]
20 Run Run Run [Velvets]
21 Kingdom of Love
22 He's a Reptile
23 [encore break]
24 Rock 'n' Roll Toilet
25 Lucifer Sam [Pink Floyd]
26 Airscape
PLEASE SUPPORT Robyn Hitchcock: Website | Twitter | Buy Official Releases