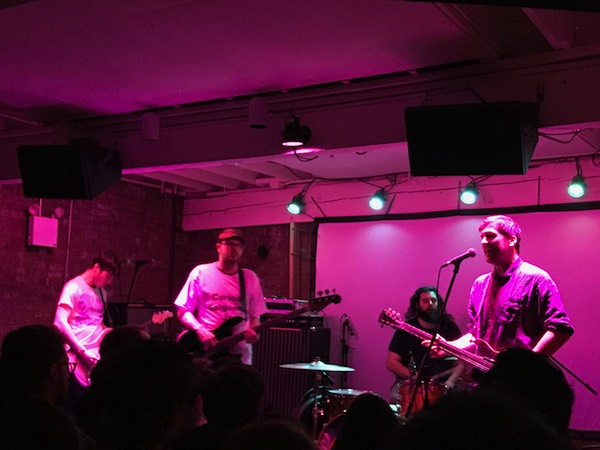 "Thank God for Pile"—if you listen closely, you'll hear one zealous audience member with an enthusiasm you don't often see for such a young band. But people really love Pile—and everyone in-the-know knows Pile are damn great. Their comparatively small but dedicated following gets bigger with each album and I daresay if you missed out on Pile this time around, I'm afraid you've missed the last of their shows in a small room.
On Friday, we squeezed ourselves into a packed Sunnyvale for the band's second of two sold-out Brooklyn shows (the first was at Baby's All Right). The thing about bands on Exploding in Sound Records is that where there's one there's bound to be more. Pile headlined a stacked bill featuring some current and future EIS greats: Gnarwhal, Big Ups, and Stove. Their set gets cut a bit short due to time constraints, but that only served to increase the intensity as their finale of "Rock and Roll Forever With the Customer in Mind" will attest. That tune is from 2015's You're Better Than This, while the rest of the set is comprised of songs off their latest album, A Hairshirt of Purpose, and their first EIS record, Dripping. Whether you're new to the band or a longtime fan, listen to this cracking performance and be thankful for Pile.
Pile is touring the U.S. and Europe through June. Check dates here and go see Pile!
Acidjack and I recorded this from our usual location at Sunnyvale right up at the stage lip, plus a board feed from Sunnyvale's engineer Dave. The sound is excellent. Enjoy!
Download: [MP3/FLAC]
Stream:

Pile
2017-04-07
Sunnyvale
Brooklyn, NY
Recorded by Eric PH and Acidjack
Produced by Eric PH
nyctaper.com
Soundboard (engineer: Dave) + Nakamichi CM-300/CP1 (ORTF, stage lip) > Zoom F8 > 2 x WAV (24/48) > Adobe Audition CC (align, mixdown, balance, compression, normalize, fades) + Izotope Ozone 5 (EQ) > Audacity 2.0.5 (tracking, tagging, dither, downsample) > FLAC (16/44.1, level 8)
Tracks [45:00]
01. Worms
02. Hissing For Peace
03. Rope's Length
04. Grunt Like a Pig
05. Dogs
06. [banter]
07. Texas
08. [banter]
09. Leaning on a Wheel
10. [banter]
11. Bump a Grape
12. Fingers
13. [banter]
14. The Browns
15. [encore break]
16. Rock and Roll Forever With the Customer in Mind
• Bandcamp
• • Facebook
• • • Tumblr
• • • • Buy A Hairshirt of Purpose via Exploding in Sound