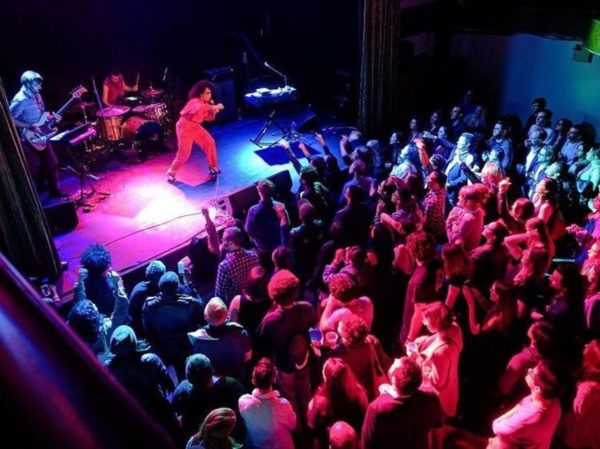 [photo from Xenia Rubinos Twitter]
There's no earthly reason why Xenia Rubinos should not be a household name in the very near future. She is an artist of immense talents as a writer, composer and performer and her art is true. The musical genres that are home to Xenia Rubinos' exemplary music have been previously culturally appropriated by the likes of well-to-do Ivy League grads, a Smith grad from Connecticut, and a guy from Forest Hills. But as a person of color who has lived the bitter mistreatment of her protagonists, Xenia is in a position to present a necessary point of view at a troubling historical time when authenticity is crucial. The world needs more voices like Xenia Rubinos and her time is now.
In July Xenia Rubinos released Black Terry Cat, her first album for the Anti- label and second overall. The album received an 8.0 from Laura Snapes over at Pitchfork and pretty much universally positive reviews worldwide. In support, she's toured tirelessly throughout the US and this month saw her triumphant return to NYC.
The Bowery Ballroom show was a special night for Xenia. Not only was it her largest show to date, but it was also her mother's birthday. Given that her first album was in part a tribute to her recently passed father, it was particularly moving that this performer had a close family connection on such an important career night. The other important participants at Bowery were the crowd, who were both voluminous and dancing throughout, and her two accompanying musicians — longtime collaborator and producer Marco Buccelli who played a variety of drums, keys and effects, and for this tour Jack Hill on bass, moog and guitar. The set began with the opening track from Cat before the trio blasted through a fifteen-song set that fully represented Xenia's catalog thus far. There were multiple pockets of fans who literally did not stop dancing throughout the entire set and were engaged with the performer throughout. But it was Xenia who was the well-deserved center of attention as she pivoted from keys to bass to solo vocals as an unstoppable kinetic ball of energy. At the end of the hour-long set she was called back for multiple encores — a true affirmation that an artist with integrity and abundant talent will ultimately succeed.
Xenia Rubinos just began an extensive eleven-date tour of Europe in April and May before she returns to the US for a variety of Summer shows, dates [HERE].
I recorded this set with the Schoeps cards set up in our usual front balcony position and mixed with an excellent board feed. The sound quality is superb. Enjoy!
Download the Complete Show [MP3] / [FLAC]
Stream the Complete Show:

Xenia Rubinos
2017-04-13
Bowery Ballroom
New York NY
Digital Master Recording
Soundboard + Audience Matrix
Soundboard + Schoeps CCM4u Cardioids > Edirol R-44 (Oade Mod) > 2 x 24bit 48kHz wav files > Soundforge (post-production) > CDWave 1.95 (tracking) > TLH > flac (320 MP3 and tagging via Foobar)
Recorded and Produced by nyctaper
Setlist:
[Total Time 1:10:45]
01 Romeo
02 Lonely Lover
03 Just Like I
04 Help
05 Don't Wanna Be
06 See Them
07 Right?
08 I Won't Say
09 Whirlwind
10 Cherry Tree
11 Laugh Clown
12 Black Stars
13 [encore break – Happy Birthday]
14 Pan y Cafe
15 Hair Receding
16 [band introductions]
17 Mexican Chef
PLEASE SUPPORT Xenia Rubinos: Facebook | Bandcamp | Artist Page at Anti- | Purchase Black Terry Cat [HERE]