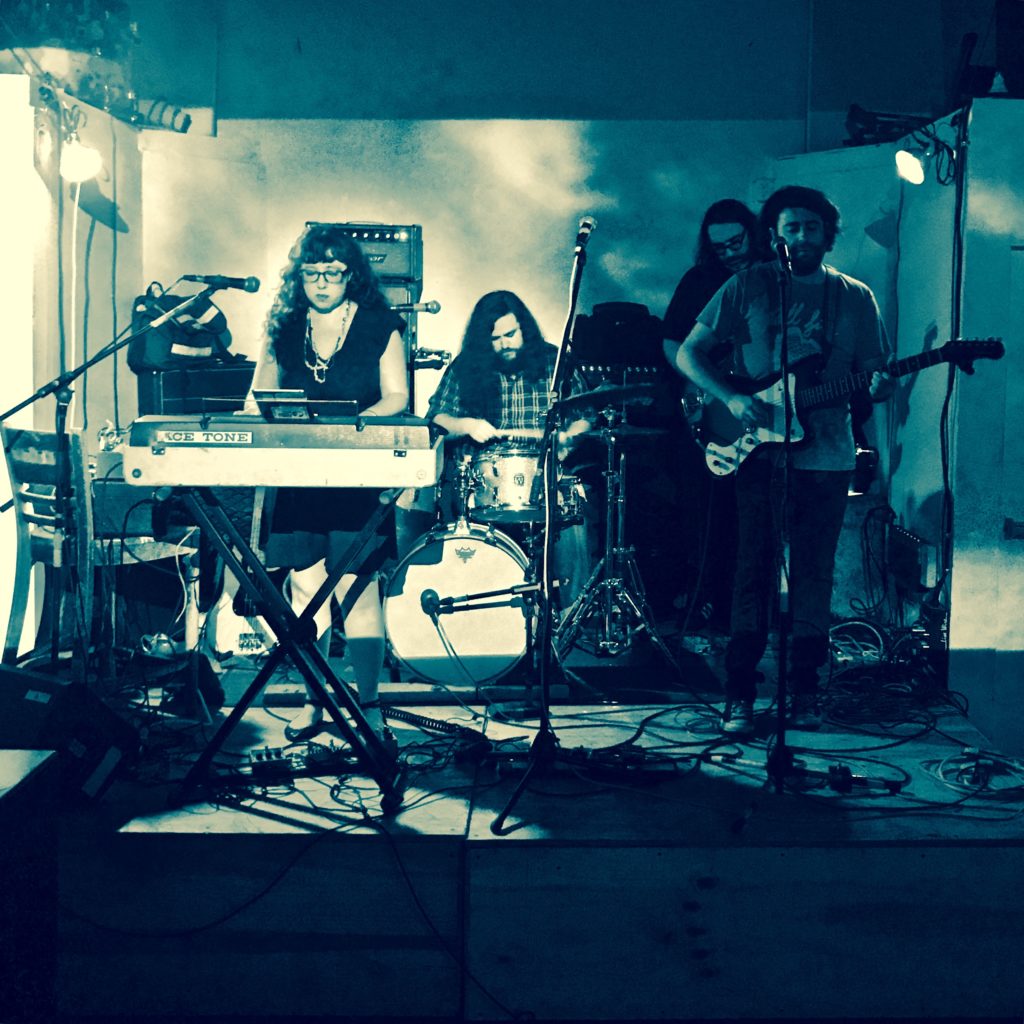 If you've been following along, you heard Sloppy Heads' record release show back in January here. Fast forward half a year, and here we are with a very different flavor of the 'Heads, taking the stage at the renewed Secret Project Robot with a set that paid a sort of tribute to the night's headliner, Oneida.
Joined by James McNew on guitar (doing double-duty that night), the Heads kicked off with "Nightbird" from their 2014 Do or Dangle EP. Beginning with the 14-minute number, replete with the kind of deep-space jamming you'd associate with early '70s Dead, announced that this would be a different kind of set. As if to drive home the point, the band followed that up with a buoyant cover of "New Speedway Boogie" that proffered its own sequence of dense guitar theatrics. As if to flip the script further, the finished with a one-two punch of burners from Useless Smile, with "I'll Take My Chances" into the garage rocker "Love Is A Disease." If shorter than the last set we saw, this felt like the perfect distillation of what this band is about — a heady psych-garage mashup that's a gas to see in the room. Go see these folks over and over again; you'll never see quite the same thing twice.
I recorded this set with Schoeps MK4V microphones onstage, together with a soundboard feed from our friends at Punkcast. The sound quality is excellent. Enjoy!
Sloppy Heads
2017-07-14
Secret Project Robot
Brooklyn, NY USA
Exclusive download hosted at nyctaper.com
Recorded and produced by acidjack
Schoeps MK4V (Stage lip, DFC)>KCY>Z-PFA + SBD (engineer: Eric)>>Zoom F8>24bit/48kHz WAV>Adobe Audition CC (fades, align, mix down, compression, limiter)>Izotope Ozone 5 (EQ, effects)>Audacity 2.0.3 (track, amplify, downsample, dither)>FLAC ( level 8 )
Tracks
01 Nightbird
02 New Speedway Boogie [Grateful Dead]
03 I'll Take My Chances>
04 Love is a Disease
Support Sloppy Heads: Buy their new album on Shrimper Records. Check out their bandcamp for more stuff.