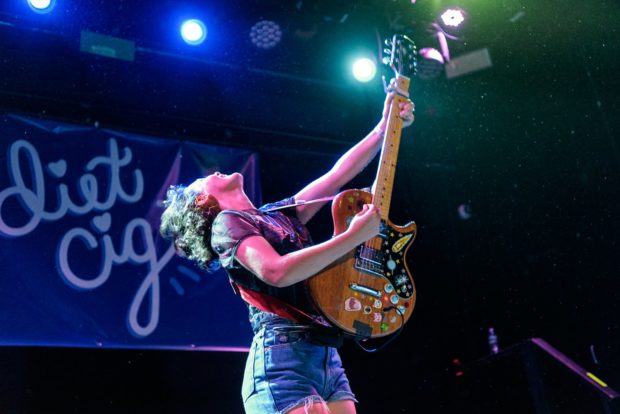 [photos by Joe Saturday]
Its hard for me to imagine that someone exists who actually doesn't like Diet Cig. The duo exudes such positive energy and real enthusiasm for their music that it's infectious in a live setting. This is not world-changing music, but two-minute pop song relatable slices of life. When Pitchfork assigned an intern whose last piece was likely in an Annandale creative writing class to review Diet Cig's most recent album, the result was a tragically misdirected hit piece that managed to be both tone-deaf and indicative of a wider problem with publications like Pitchfork. Sometimes music doesn't have to have a larger meaning and when the writer savages the musicians for failing to meet a false standard, it says more about the writer's inadequacies than anything the music set out to achieve. To paraphrase Billy Bragg, Diet Cig don't want to change the world, they're just looking to sing some pop songs.
At Bowery Ballroom on Friday night, the band played to a sold-out crowd and all of the good vibes coming from the stage were returned all night. This was a crowd in love with the band for all the right reasons. Sure, lead singer Alex Luciano opened the set by declaring that all of the band's show are safe spaces and later she gently chided the dancers in front to keep it fun and not too physical, but it was more than that. Luciano played a wireless guitar on a nearly bare stage — drummer Noah Bowman was set up to the far left — in order to be able to dance, run, jump and literally never stop moving throughout the set. Her unbridled ebullience drove the hour-long set from start to finish, to the point where the briefest of breaks were only to catch her breath. Diet Cig performed just about every song they've ever recorded — from their debut EP and a double-sided single on Father/Daughter Records, and all but one song from their first album I Swear I'm Good At This released this year on Frenchkiss. The show also featured the debut performance of the song the band wrote for the Amazon tv show "American Girl" called "Together We Can Conquer Whatever". When the band returned to play their very first recorded track "Harvard" as an encore, it brought me back to the initial time I heard a pre-release promo of that very track. The song made me smile that day and a few years later, this Bowery show did it again many times over.
Diet Cig has a handful of US dates remaining before they spend much of the Fall touring throughout Europe, all dates here.
I recorded this set in our usual manner in this venue, Schoeps from the front of the balcony mixed with a board feed. Other than a few bits of static from Alex's wireless guitar, the sound quality is very representative of the set with bundles of energy and non-stop movement. Enjoy!
Download the Complete Show [MP3] / [FLAC]
Stream the Complete Show:

Diet Cig
2017-09-08
Bowery Ballroom
New York NY
Digital Master Recording
Soundboard + Audience Matrix
Soundboard + Schoeps CCM4u Cardioids > Sound Devices 744t > 2 x 24bit 48kHz wav files > Soundforge (post-production) > CDWave 1.95 (tracking) > TLH > flac (320 MP3 and tagging via Foobar)
Recorded and Produced by nyctaper
Setlist:
[Total Time 51:00]
01 [introduction]
02 Sixteen
03 Bite Back
04 Leo
05 Dinner Date
06 [banter – slumber party]
07 Cardboard
08 Sleep Talk
09 Breathless
10 [banter – rollercoaster]
11 Scene Sick
12 Pool Boyz
13 Apricots
14 Maid of the Mist
15 [Tummy intro]
16 Tummy Ache
17 Blob Zombie
18 [Conquer intro]
19 Together We Can Conquer Whatever
20 Link in Bio
21 Bath Bomb
22 Barf Day
23 [encore break]
24 Harvard
PLEASE SUPPORT Diet Cig: Website | Frenchkiss Records Page | Father/Daughter Records Page | Bandcamp