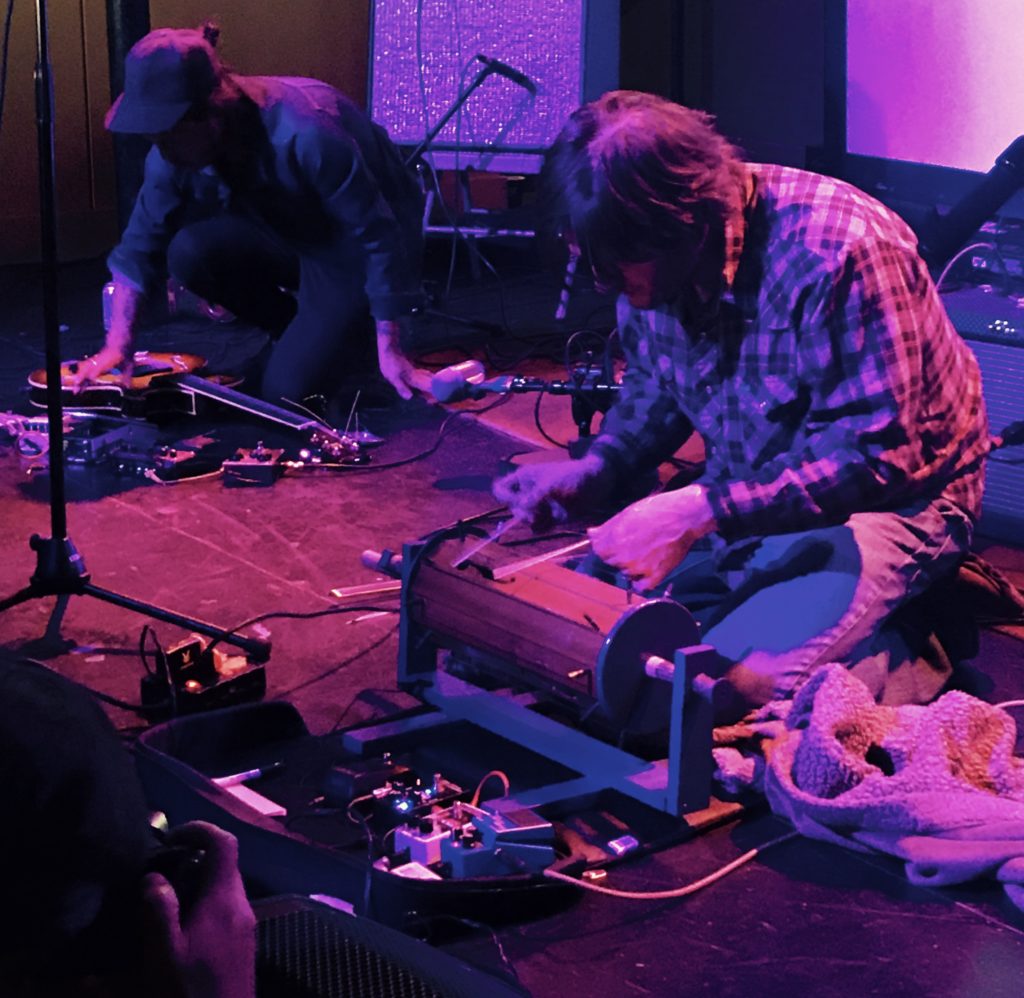 Tashi Dorji and James "Wooden Wand" Toth are both favorites of ours, each having performed some spectacular sets of music that we've featured in the past (and more to come). Dorji is a modern day avant-guitar master, while Toth — best known for his Wooden Wand songwriting — can move fluidly through several genres, as comfortable in singer-songwriter mode as he is with the way out. This Three Lobed Recordings / WXDU Hopscotch day show set featured the two men doing more of the latter, as the two men wove together a one-of-a-kind ambient noise improvisation. The mysterious box you see Toth in front of in the picture is the Octatone, a rare, handmade instrument by Forrest Marquisee of Virginia-based Forest Floor Studios, which you can learn more about here (watch a YouTube demo here). You can't have one of these legendary day shows without a spiritual out performance, and this collaboration was that highlight for us this year. The connection between these players was such that this creation didn't even start with a roadmap; what you hear is the organic evolution of two music minds in the act of creation. It's a special moment not to be repeated, and it's part of why I never miss a Friday at King's in the early weeks of September.
I recorded this set with Evan Lamb's house mix plus Schoeps MK4V microphones onstage. The sound quality is outstanding. Enjoy!
Tashi and James play at Black Iris in Richmond on October 21. Check it out if you're in the area!
Tashi Dorji / James Jackson Toth
2017-09-08
Three Lobed / WXDU Hopscotch Afternoon Jamboree
King's
Raleigh, NC USA
Recorded and produced by acidjack
Hosted at nyctaper.com
Schoeps MK4V (onstage, DFC)>KCY>Z-PFA + Soundboard (engineer: Evan Lamb)>Zoom F8 (24bit/48kHz WAV files)>Adobe Audition CC (align, mix down, compression)>Izotope Ozone 5 (EQ, effects)>Audacity 2.0.5 (track, amplify, dither)>FLAC ( level 8 )
Tracks
01 improvisation
Tashi Dorji – Guitar
James Jackson Toth – Octatone
SUPPORT TASHI DORJI AND JAMES TOTH: Pay to download this recording (click the bandcamp link above), and buy stuff from them: Wooden Wand | Tashi Dorji