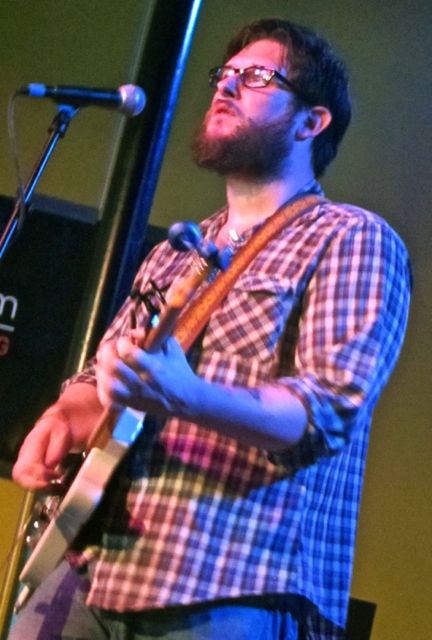 [Photos by acidjack]
Back when he was in law school, my college buddy Cory Rayborn decided to put out a 10″ record for the band Bardo Pond, on a new imprint he called Three Lobed Recordings. Cory didn't have any grand cred-building mission or even a firm direction in mind; he just wanted to give wider exposure to the outsider music he held dear. So after the Bardo Pond release came another, then another, then many others, until the tiny North Carolina label that my friend founded as a hobby suddenly found itself compiling a tenth anniversary vinyl-only box set – which sold out in a matter of days. And at this year's Hopscotch Music Festival, Three Lobed and the Durham, NC-based WXDU (nominally Duke's college radio station, but staffed almost completely by locals) brought together an incredible lineup of artists who have released records on Three Lobed, together with other artists who are friends and admirers.
James Jackson Toth, aka Wooden Wand, first joined the Three Lobed family on the label's 14th release, with the Wooden Wand and the Vanishing Voice album l'un marquee contre la moissoneuse. Toth has a staggering catalog of releases to his name, including everything from homemade tapes and CD-Rs to the recent deluxe version of his current record Briarwood (which, if you Kickstarter funded enough money, included a USB drive filled with over 100 demos, live recordings, alternate mixes, and outtakes). While Briarwood and Toth's other most recent material could be best described as country-driven rock, Toth's work has taken many twists and turns, with deep dives into free jazz, noise and acid folk. Toth has a new album on the way by the name of Blood Oaths of the New Blues, which promises to continue in the extremely accessible (and well-produced) vein of Briarwood. Here at the WXDU/Three Lobed Day Show at Raleigh's King's Barcade, we had the pleasure of seeing Toth take the stage to perform a short-but-satisfying set that included several of the new Blood Oaths tunes.
After a heartfelt thank you to Rayborn and his accomplishments with Three Lobed, Toth dug right in with "Mother Midnight", from his 2006 record Second Attention, a mid tempo rocker that showcases the deep soul in Toth's voice. You'd never know, from listening, that he is originally from upstate New York. From there, the new material began with the brooding "Southern Colorado Song", one of several of Toth's new songs that demonstrates the further refinement to his songwriting even as it stays true to his essential aesthetic.  Perhaps the most moving song of the set was the new "Dungeon of Irons", whose lyrics were culled by Toth from a compilation of the actual last words of death row prisoners. In Toth's hands, these scattered musings become a profound statement about mortality and the essential unfairness that plagues both life and death. As this set wound down with the new song "Jhonn Balance" (in tribute to the lead singer of the experimental band Coil), Toth's day was just beginning; Wooden Wand played Berkeley Cafe down the street later that night.
For this post we are offering both the Three Lobed/WXDU Day Show set that I recorded, as well as a partial recording of the Berkeley Cafe set that was recorded by a local taper Evan Lamb. While the Berkeley recording was done with less complicated equipment, Toth felt that this was the better of the two performances, and this recording adds an extra song not played at the earlier show.
Thanks to James Toth for allowing us to post these sets.
Stream "Dungeon of Irons" from the Three Lobed/WXDU Day Show:

Stream "Eagle Claw" from Berkeley Cafe:

Download the WXDU/Three Lobed set [MP3] | [FLAC]
Download the Berkeley Cafe set [MP3] | [FLAC]
If the FLACs link are no longer working, email nyctaper for the FLAC files
Follow acidjack on twitter
Check out all of NYCTaper's Hopscotch Festival recordings
Note: All of the material on this site is offered with artist permission, free to fans, at our expense. The only thing we ask is that you download the material directly from this site, rather than re-posting the direct links or the files on other sites without our permission. Please respect our request.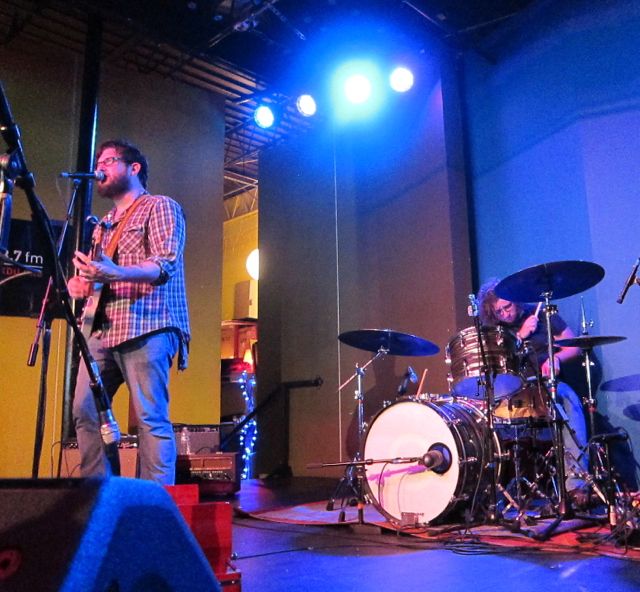 Wooden Wand
2012-09-07
WXDU/Three Lobed Hopscotch Day Party
Kings Barcade
Raleigh, NC USA
Exclusive download hosted at nyctaper.com
Recorded and produced by acidjack
Soundboard + Schoeps MK5 (omni, onstage)>KC5>CMC6>>Edirol R-44 [OCM]>2x24bit/48kHz WAV>Audition (mixdown)>Izotope Ozone 5 (EQ, effects)>Audacity 3.0 (set fades, tracking, amplify, balance, downsample)>FLAC ( level 8 )
Tracks
01 [intro]
02 Mother Midnight
03 Southern Colorado Song
04 Winter In Kentucky
05 [banter]
06 Dungeon of Irons
07 Days This Long
08 Jhonn Balance
______________________
Wooden Wand
2012-09-07
Hopscotch Music Festival
Berkeley Cafe
Raleigh, NC USA
Exclusive download hosted at nyctaper.com
Recorded by Evan Lamb
Produced by Dan Schram and acidjack
AKG Perception 170>unknown recorder + soundboard>unknown recorder>unknown processing>WAV>Audacity (tracking, set fades, amplify)>FLAC ( level 8 )
Tracks [Total Time 22:53]
[set cuts in]
01 Days This Long
02 [banter]
03 Mother Midnight
04 [banter]
05 Winter In Kentucky
06 [banter]
07 Eagle Claw
08 Jhonn Balance
If you enjoyed these recordings, PLEASE SUPPORT Wooden Wand, visit his website, and buy Briarwood and the forthcoming Blood Oaths of the New Blues from Fire Records [HERE]