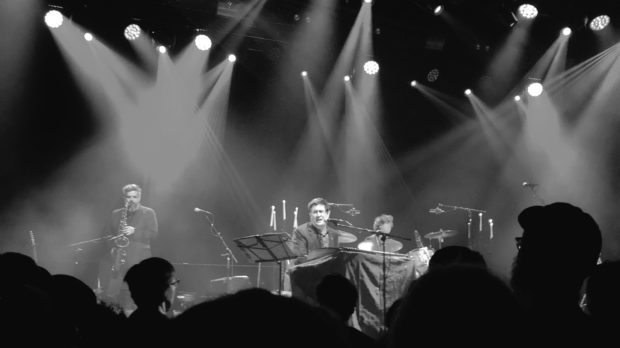 [photo by Megan Etzel]
All the stars aligned for this Sunday night return to NYC for the Mountain Goats. On tour in support of their newest release, the excellent Goths (Merge Records) album, the band played their first local shows in over a year and a half. Those legendary 2015 and 2016 City Winery shows saw the Mountain Goats in an intimate setting, but at Brooklyn Steel this weekend the large room afforded the band the opportunity to stretch out. As they took the stage to the dramatic Vivaldi concerto, the Mountain Goats were greeted warmly by the packed room. This was a night when the fans played a truly complimentary role to the music — hushed during the quiet moments and raucous when required, but attentive throughout. There was no idle chatter and virtually none of the persistent shouted requests that sometimes annoy at Mountain Goats shows. Ultimately, the audience was rewarded with a lengthy show featuring stellar performances, a few rare nuggets, and two shout-outs to the crowd from John Darnielle later in the evening.
Goths is essentially a tribute to that early 80s British scene which included Siouxsie, Nick Cave, Peter Murphy/Bauhaus, and Andrew Eldritch/Sisters of Mercy. As with any subject of a Mountain Goats album, the songs are both tributes and explications of the melancholy and loneliness of the lifestyle. "Andrew Eldritch Is Moving Back to Leeds" finds the singer leaving the goth life in Germany and returning with little or no fanfare to the upper Midlands town where the band began. For this particular show "Eldritch" was preceded by the debut of a cover of the Sisters Of Mercy's 1989 single "Lucretia My Reflection", performed to perfection in large part because the band's stage assistant had enough foresight to print and laminate the lyrics in advance. It was that kind of night, as seemingly everything the band did turned out right. John's three-song solo set featured an infrequent appearance of "Autoclave", and an exceedingly rare unreleased "Poltergeist", before the band returned for a powerful second half of the show. The show's finale was a return of "The Best Ever Death Metal Band in Denton", a fun song that I haven't seen in a few years and which always gets the crowd involved. Sunday night's show at Brooklyn Steel represented all of the reasons why we keep coming back to see this band, and probably always will.
I recorded this set with the Neumann hypers mounted high inside the soundboard cage and mixed with the a feed provided by the Mountain Goats longtime FOH Brandon Eggleston. Both the room and the feed provided superbly balanced sound, so that this recording is truly a remarkable capture. Enjoy!
Download the Complete Show [MP3] / [FLAC]
Stream the Complete Show:

Mountain Goats
2017-11-12
Brooklyn Steel
Brooklyn NY
Digital Master Recording
Soundboard + Audience Matrix
Soundboard [Engineer: Brandon Eggleston] + Neumann KM-150s > Sound Devices 744t > 2 x 24bit 48kHz wav files > Soundforge (post-production) > CDWave 1.95 (tracking) > TLH > flac (320 MP3 and tagging via Foobar)
Recorded and Produced by nyctaper
Setlist:
[Total Time 1:39:36]
01 [Vivaldi introduction]
02 The Grey King and the Silver Flame Attunement
03 Cotton
04 In the Craters on the Moon
05 Until I Am Whole
06 [banter – Bat Cave]
07 Rain in Soho
08 Lucretia My Reflection [Sisters Of Mercy]
09 Andrew Eldritch Is Moving Back to Leeds
10 [tuning]
11 Autoclave
12 Moon Over Goldsboro
13 Poltergeist
14 Snow Crush Killing Song
15 [banter – Fenders]
16 Paid in Cocaine
17 [banter – Shelved intro]
18 Shelved
19 The Young Thousands
20 Harlem Roulette
21 Against Pollution
22 [encore break]
23 Southwestern Territory
24 Up the Wolves
25 This Year
26 [second encore break]
27 Spent Gladiator 2
28 The Best Ever Death Metal Band in Denton
SUPPORT the Mountain Goats: Website | Twitter | Buy Official Releases | Tour Dates