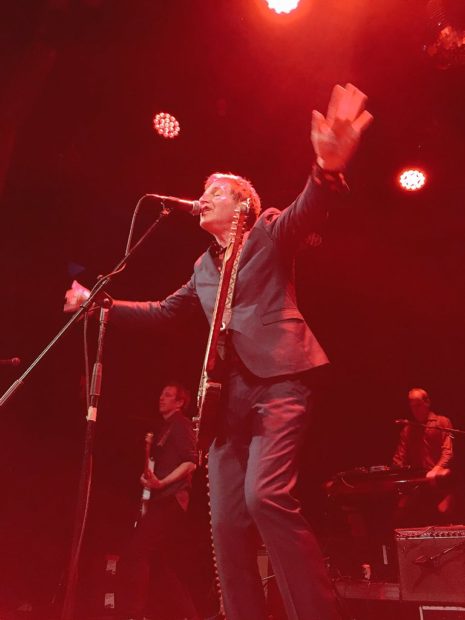 [photo by Marcus Slade]
There was a point early during Saturday night's Dream Syndicate show at Bowery Ballroom when I thought to myself, I can not believe that is only the second show of the band's current tour. The amazement was based on the fact that the band was just so damned tight. Its true that Steve Wynn and guitarist Jason Victor have played together regularly for more than a decade, but Dream Syndicate was not that long ago a "reunion" band. A band coming back together after years apart isn't supposed to sound this in-sync. But over the last couple of years the band started recording again, and the result was an excellent new album called How Did I Find Myself Here (Anti).
The Dream Syndicate is currently on an extensive tour to support the new record, and if the Bowery show is any indication, this tour is destined for legendary status. The set mixed in material old and new and was clearly high energy from the start. The band didn't take many breaks between songs to banter, but just rolled on one ripping track after another. Its says a lot about the new record that the show-stopping number was a twelve-minute version of the title track that was absolutely shredded. But the classic material was also on display and an all-timer version of "Days Of Wine and Roses" ended the main set in furious fashion before the band returned for three encores. Don't miss this tour. All dates are (here).
I recorded this set in our usual fashion in this venue mixing the strategically placed Schoeps with an excellent soundboard feed from the band's touring FOH. Unfortunately, I inexplicably lost power for about thirty seconds during the second song, which now contains a noticeable splice. Otherwise, the quality is superb. Enjoy!
Download the Complete Show [MP3] / [FLAC]
Stream the Complete Show:

Dream Syndicate
2017-12-02
Bowery Ballroom
New York NY
Digital Master Recording
Soundboard + Audience Matrix
Soundboard + Schoeps CCM4u Cardioids > Sound Devices 744t > 2 x 24bit 48kHz wav files > Soundforge (post-production) > CDWave 1.95 (tracking) > TLH > flac (320 MP3 and tagging via Foobar)
Recorded and Produced by nyctaper
Setlist:
[Total Time 1:39:36]
01 [introduction]
02 Halloween
03 The Circle
04 80 West
05 Armed With An Empty Gun
06 Like Mary
07 Out of My Head
08 [banter – NYC]
09 Filter Me Through You
10 Burn
11 Whatever You Please
12 The Medicine Show
13 How Did I Find Myself Here
14 [band introductions]
15 Forest for the Trees
16 That's What You Always Say
17 The Days of Wine and Roses
18 [encore break]
19 When You Smile
20 Tell Me When It's Over
21 [banter – thanks]
22 Glide
SUPPORT The Dream Syndicate: Website | Anti Records Site | Buy How Did I Find Myself Here?