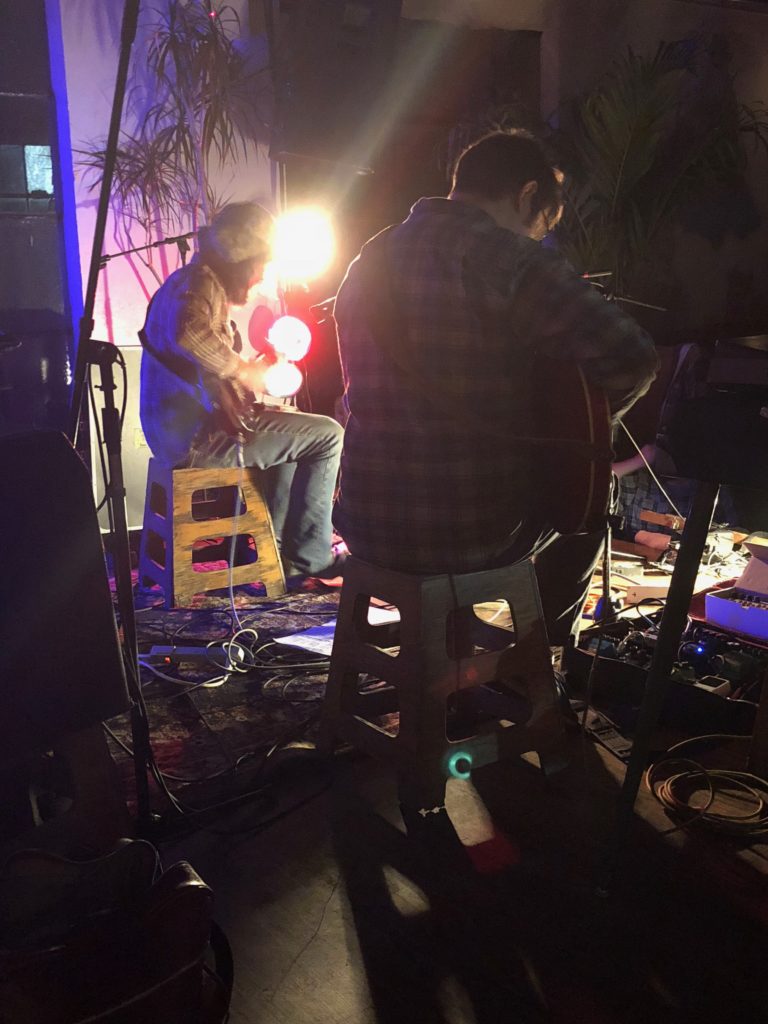 What's better than an early Sunday evening kickin' it with the deep space musings of Matt "MV" Valentine? How about Matt plus PG Six, aka Pat Gubler, who've been touring (and are about to put out a record) together as Wet Tuna? The pair of guitarists (plus some pre-recorded beats) were in NYC for a pair of shows, the first night (recorded) at Brooklyn's Ceremony, the second this jaunt at the revitalized Trans-Pecos.
Given that the night kicked off with a DJ set from WFMU's DJ Jeff Conklin, whose beloved Avant Ghetto show is a must-listen for fans of this kind of music, it felt appropriate for the Tuna to launch with "I Know You Rider," the traditional blues song popularized by the Grateful Dead. From there, we got two more sick covers – Michael Hurley's "Water Train" followed by Incredible String Band's "Empty Pocket Blues," which flowed into the Livin' the Die track "New York Street." Along with this performance with the Tuna, we've also caught Matt on some recent solo outings — so stay tuned for that as well.
This set was recorded directly from the Trans-Pecos soundboard. The sound quality is excellent. Enjoy!
Download the complete show: [MP3/FLAC/ALAC]
Stream the complete show:

Wet Tuna
2017-12-10
Trans-Pecos
Queens, NY USA
Exclusive download hosted at nyctaper.com
Produced by acidjack
Soundboard (house PA mix saved to SanDisk thumb drive)>16/48 WAV>Adobe Audition CC (EQ, effects)>Audacity 2.0.3 (track, amplify, fades)>FLAC ( level 8 )
Tracks
01 I Know You Rider [Grateful Dead version]
02 Water Train [Michael Hurley]
03 Empty Pocket Blues [Clive Palmer/Incredible String Band]>Empty Mood Jam>Space/Drums>New York Street
SUPPORT WET TUNA: Buy Livin' The Die from them right here.