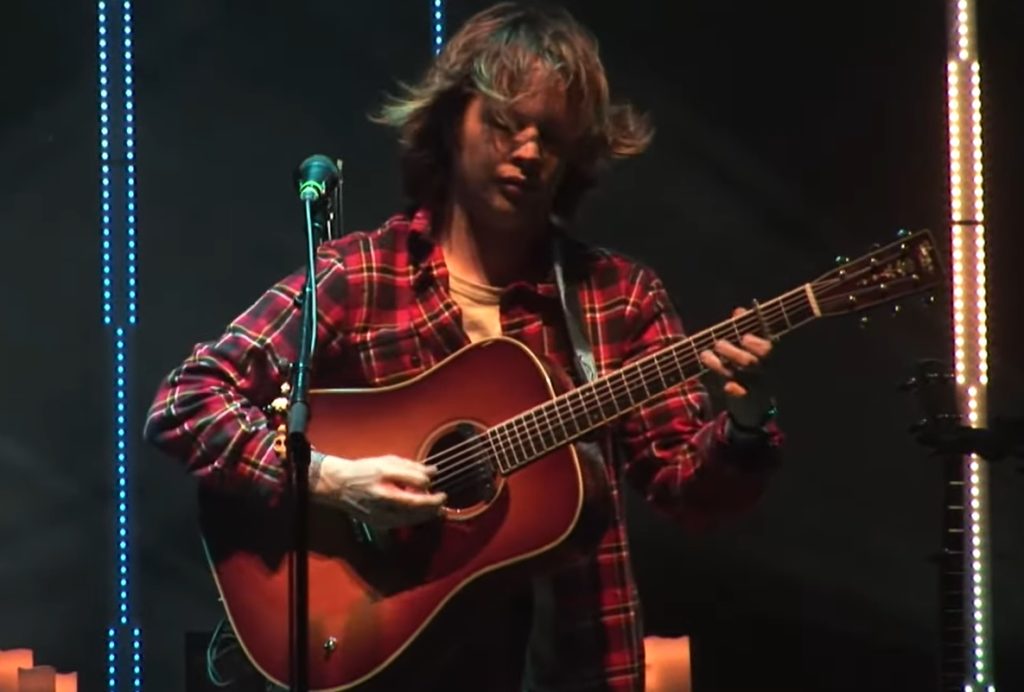 In his brief 29 years, Billy Strings has lived a life worthy of a full-length feature film. The unhinged and dangerous nature of his childhood has been well-documented in the media, and in his songs ("Turmoil & Tinfoil"), which gives rise to the meme of his salvation through music. Whether his musical gifts were inherited, earned, or through random fortune, what is abundantly clear at this point is that Billy Strings is one of the most profoundly talented performers alive today.
I attended this Strings show (my first) at the Capitol Theatre having watched quite a few of his performances online, and fully expected that the show would be an enjoyable run through some authentic bluegrass and choice rock covers performed by a crack band. What I didn't expect was to be so thoroughly enthralled with the tremendous energy coming from the stage and mirrored back by the crowd. This was a joyous event from the very start and the positivity never ebbed. Honestly, I don't think I've ever seen a show quite like this one.
Musically, the quartet are all world-class masters of their instruments. Strings is of course the focus, but he never failed to let his band shine. Even in those moments when Billy dove into the pedal board and went full-on rock star, the intricate interplay between the quartet was palpable. And the ability to improvise was focused and never drifted without purpose — witness the fifteen-minute run through "Dust in a Baggie" which ebbs and flows and hits on a variety of moods, but never once loses the throughline.
I tweeted earlier this week a hot take about Jerry Garcia's influence on the history of bluegrass music, and it was not a coincidence that Billy Strings mu-tron effect jam during "Heartbeat of America" got me thinking. The Grateful Dead influence during this show was obvious. The covers of "Me and My Uncle", "Oh Babe It Ain't No Lie" and "Rosa Lee McFall" were all homages to their original authors, filtered through a Dead-centric musicology. Yes, it is fantastic that perhaps more people will discover the legendary Elizabeth Cotton because of Billy Strings, but the hovering specter of Jerry Garcia was omnipresent, nevermind the "ESP Shows" connection explicitly advertised for this run of shows.
The second set's main improvisational vehicle was the Robert Hunter penned "Thunder" that stretched over twenty minutes, but again never strayed off script. Throughout the night though, the bluegrass homages were many — whether it be the Dillards, Bill Monroe, Tony Rice, or the Stanley Brothers, Billy Strings clearly knows from whence his inspired talents flow, and he was entirely willing to acknowledge his idols. But ultimately, a Strings concert is not a cover show. This night featured a superb talent at the top of his game and creating a career-defining bit of perfection to a tuned-in and dedicated fan base. It doesn't get any better than this.
I recorded this set with the Neumann hypercards from the tapers' section adjacent to the soundboard. Like any sold-out general admission show, there is crowd chatter, but these Strings fans were attentive and enjoying the music so that the crowd din is not distracting. Overall, I'm extremely pleased with this recording and hope you are too. Enjoy!
Download the Complete Show in MP3 or FLAC at Archive.org [HERE]
Stream the Complete Show from the Archive:
Billy Strings
2022-02-04
Capitol Theatre
Port Chester NY
Digital Master Recording
Tapers Section at Soundboard
Neumann KM-150 Hypers > Sound Devices 744t > 24bit 48kHz wav > Soundforge (post production) > CDWave 1.95 (tracking) > TLH > flac (320 MP3 and tagging via Foobar)
Recorded and Produced by nyctaper
Setlist:
Set 1 [Total Time 1:16:40]
01 Know It All
02 How Mountain Girls Can Love [Stanley Brothers]
03 Tipper [Tony Rice]
04 Run Down [Jeff Austin]
05 There Is a Time [Dillards]
06 Dust in a Baggie
07 Dealing Despair
08 Living Like an Animal
09 Me and My Uncle
10 Heartbeat of America
11 John Deere Tractor [Larry Sparks]
12 On the Line
Set 2 [Total Time 1:26:04]
13 ESP Experiment
14 Free Born Man [Keith Allison]
15 Thunder
16 My Love Comes Rolling Down [Watson Family]
17 Ernest T Grass* [Dillards]
18 Air Mail Special
19 Show Me the Door
20 Oh Babe It Ain't No Lie [Elizabeth Cotton]
21 Rosa Lee McFall [Charlie Monroe]
22 Turmoil and Tinfoil
23 [encore break]
24 Roll On Buddy Roll On [Bill Monroe]
*with Third Stone From The Sun jam [Hendrix]