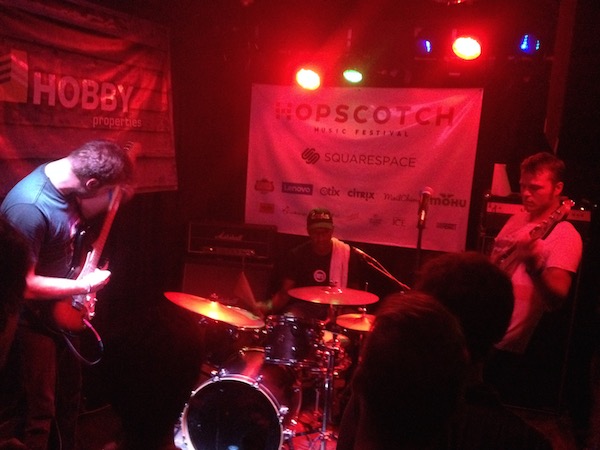 David Schwentker tapes and reports:
Because Lamont 'Bim' Thomas is not prolific enough with his main project, Obnox, last year during SXSW he decided to hit the studio with half of the OBN IIIs (Orville Neely and Tom Triplett) to bash out some Ohio-meets-Texas blues punk. Lucky for us, 12XU Records released the recordings of this garage super-group on a 12″ earlier this year, under the name Blaxxx. As an added bonus, the trio is still getting together to play shows here and there, and for a good selection of Hopscotch Music Festival fans, their headlining slot at Slim's on the festival's middle night was a set circled in permanent ink.
Thomas is no stranger to the festival, as Obnox played the exact same 12:00 slot at Slim's on the festival's Friday night last year. By midnight on Friday, Neely and Thomas were festival vets too, having headlined a different club on Thursday night with the OBN IIIs. In fact, both Obnox and OBN IIIs played day party shows on Friday this year as well, and if you ran across town like me, you were able to catch almost all of both of those sets.
Thanks to a blistering, sub-twenty minute set from Raleigh punks No Love, Blaxxx had plenty of time to set up their gear. Hopscotch Music Festival runs remarkably on time at every venue every year, but this was the first time I'd seen the fourth band of the night ready to play 15 minutes before their specified time. With their mics not going live until midnight, the band could have elected to go spend their time hanging out. Instead, they just started playing anyway, treating the fans that were already assembled to an impromptu 11 minute instrumental jam. When the mics came on at midnight, Thomas told a story of encountering Iron Maiden one day in 1988, while working at Cedar Point Amusement Park and having them sign the only piece of paper he could find, his Social Security card. From there, the band was off, playing extended versions of 3 tracks from their "For No Apparent Reason" 12″.
Hopefully we'll see more tunes from this band in the future, but until then, this recording is a great companion to the debut vinyl release. Slim's is a small club where not all of the instruments are even mic'd, so this recording was captured by a pair of Church Audio omni directional mics mounted in the ceiling above the crowd. While this recording may be a little less polished than much of what is offered on this site, it's a great representation of what it was like to be standing at the lip of the tiny stage, right in front of the band.
Download the complete show: [MP3] | [FLAC]
Stream the complete show:

Blaxxx
2015-09-11
Hopscotch Music Festival
Slim's
Raleigh, NC USA
Recorded and produced by David Schwentker
Church Audio CA-1 (omni) > Olympus LS-10 > WAV > Audacity (track, mixing) > Trader's Little Helper (conversions) > FLAC (level 8) > foobar2000 (tagging)
Tracks:
01 [intro]
02 [pre-set jam]
03 [banter]
04 Cut Em Down
05 Let Me Hold Your Hand
06 Get A Hold Of Your Life
Support Blaxxx: Buy the For No Apparent Reason EP from 12XU