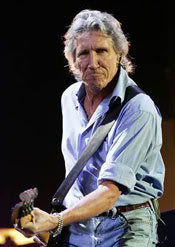 There are times when the planets align, and everything goes right. There are also times when history repeats itself. Both phenomena occurred on May 30, 2007 at Madison Square Garden, as Roger Waters returned to New York for the tail end of the lengthy Dark Side of the Moon tour. As in September, the concert was superb, and as you'll find below, the recording conditions were optimal.
I recorded this concert from almost the exact position as the September 12, 2006 recording, and used comparable equipment. As a result, the recording is a faithful capture of the soundscape in the best sonic seat in the house–absolute center, about 30 feet in front of the Soundboard.
This recording is no longer available at nyctaper. You can probably find it on several sites on the web.
Roger Waters
2007-05-30
Madison Square Garden
New York, NY USA
"The Dark Side of Manhattan"
Pinkroioshn CDR-022 (PRS-CDR-022)
Digital Master FOB Recording
DPA 4021's > Marantz PMD-660 (Oade BCM)
Premiere Download offered at
http://www.nyctaper.com
First Set:
[total time 1:12:16]
01 In The Flesh
02 Mother
03 Set The Controls For the Heart Of The Sun
04 Shine On You Crazy Diamond
05 Have A Cigar
06 Wish You Were Here
07 Southampton Dock
08 The Fletcher Memorial Home
09 Perfect Sense Parts 1 and 2
10 Leaving Beirut
11 Sheep
Second Set
01 Dark Side of the Moon
Encores
02 Band Introductions
03 The Happiest Days Of Our Lives
04 Another Brick In The Wall (Part 2)
05 Vera
06 Bring the Boys Back Home
07 Comfortably Numb
As with all the artists featured on this site, please SUPPORT the ARTIST and
purchase Roger Waters official recordings.