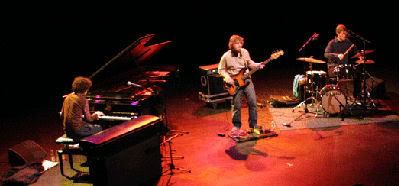 Jacob Fred Jazz Odyssey is a prog-fusion jazz trio consisting of Brian Haas (keyboards), Reed Mathis (bass), and newly-added (2007) drummer Joshua Raymer. Their most obvious influence is Bitches Brew-era Miles Davis, and their most obvious comparison is Medeski Martin and Wood. Mathis has built a solid reputation, as he's played recently in different bands with Steve Kimock, Bobby Previte, and Mark Benevento.
Their opening set last night at the Blender was nearly 90 minutes of profoundly excellent jazz improv. Haas provided the backbone as he performed primarily on a series electric keyboards and effects, and Raymer kept up with his new bandmates providing a solid rhythm. The lead bass and various effects utilized by Mathis were quite impressive during his several solos.
JFJO permit live recording, and as a result I was able to use my best equipment from a center spot directly above the soundboard in the first row of seats. After the show I chatted briefly with Brian Haas who was not only modest about the outstanding set that the trio had just performed, but also thanked me for recording the set.
Enjoy this outstanding recording of new jazz improvisation at its finest.
The Bjorkestra set was also recorded and will be posted in the next couple of days.
This recording is now available to download in FLAC and MP3 at Archive.org [HERE].
Jacob Fred Jazz Odyssey
2007-09-22
Blender Theatre at Gramercy
New York, NY USA
Digital Master Recording
Recorded from 1st Row of Seating Area
Directly Behind Soundboard
Neumann KM-150's (AK-50 Hypercardiod Capsules) > Apogee Minime > digital coaxial > M-Audio Microtrack > flac
Recorded and Produced by
nyctaper
2007-09-23
Setlist
[total time 1:21:25]
01 Improvisation
02 Santiago
03 Song of the Vipers, The Maestro
04 Twin Star
05 Oklahoma Stomp
06 Hover
07 Happiness is a Warm Gun
08 Dove's Army
09 Old Love, New Love
As with all artists featured at this site, if you download this recording PLEASE SUPPORT Jacob Fred Jazz Odyssey by visiting their web site.
Click the link below to purchase their latest release: