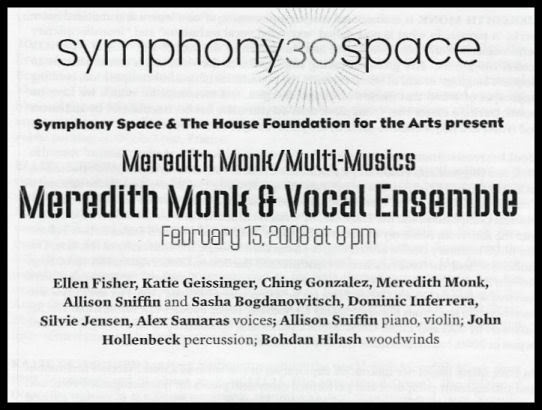 Meredith Monk is perhaps the most profoundly unique performer in any genre of music today. She combines the talents of a composer, vocalist, choreographer, performance artist, and musician into a wholly original presentation.
At Symphony Space on Friday night, Meredith led a rare performance of the complete Vocal Ensemble. The Ensemble has changed personnel over the years, but the two talented "arms" of Monk were present. While Allison Sniffin is the solid and reserved musical foundation, the more animated Katie Geissinger projects vocal confidence and charm. Each in their own way represents a different aspect of the musical personality of Meredith herself. The other veteran player, Ching Gonzalez, anchors the Ensemble with a joyous stage presence and deep and rich baritone.
The Symphony Space performance comprised two acts — the first act featured a career retrospective and the second act was a lengthy segment of Monk's new release Impermanence. First act highlights included "Gotham Lullaby", which retains its originality after many performances over the last 30 years, and the closing "Waltz in 5's", which featured all of Monk's talents and the complete Ensemble.
The "new" material from Impermanence has been performed in various venues and formats in the last several years, creating a level of familiarity, but the Symphony Space performance was the first as a complete Act. The power of the piece in this presentation was something to behold, as the Ensemble brought this new Monk treasure to fruition. As the stage lights dimmed and the crowd rose to its feet, it became all too apparent that this incredible performer has not lost her touch after 40 years of creativity.
The Program from this concert is available (here). Unfortunately, I did not get an answer to my request to record this performance, and ultimately did not record. This was particularly regrettable because of my perfect location, and the true power of this performance. Symphony Space does offer streaming audio of select performances, so one hopes Monk will eventually be offered to listeners.
Please support Meredith Monk, visit her website and purchase her official releases. Impermanence will be released on March 18, and can be pre-ordered here.