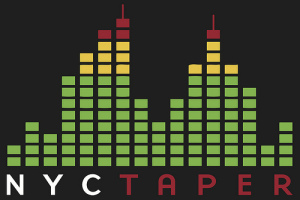 We attended 85 concerts this year, recording 75 of them. Of all of these many shows, these 5 concerts below are the most memorable experiences of the year for a variety of reasons.
nyctaper's Top Five Concerts of 2007:

1.  Yo La Tengo December 6, 2007 Maxwell's
An absolutely amazing YTL set, with legendary openers the dBs. We had a great time, with a great atmosphere and an excellent taping experience.
2.  White Stripes July 24, 2007 Madison Square Garden
Jack and Meg fill up the big room with a sonic masterpiece. Two hours of intense blues rock and nine encores. nyctaper enjoys the concert and records from the perfect location.
3.  Fiery Furnaces August 26, 2007 Socrates Sculpture Park
This concert was like seeing your favorite band at a family picnic. Eleanor, Matt and company rock through the final live performance of the Bitter Tea medley in a beautiful park on a beautiful day with the scenic East River and Manhattan skyline behind them. nyctaper sits on the grass and records from the ideal spot.
4.  Bruce Springsteen October 18, 2007 Madison Square Garden
The only 57-year old in rock history to perform a non-stop concert of such intensity for two and a half hours straight. The Meeting Across the River / Jungleland was the highlight of any Bruce concert of the entire 2007 tour.
5.  Pylon November 7, 2007 Mercury Lounge
1980s Athens legends tour for the first time in 17 years, and miraculously sound as tight as if they'd played together all that time. Vanessa and company seem thankful for the fans in attendance that night, and are incredibly gracious to nyctaper before and after the show.
Honorable Mention:
Dinosaur Jr. June 6, 2007 Irving Plaza
Regina Spektor October 16, 2007 Hammerstein Ballroom
of Montreal March 9, 2007 Irving Plaza
Richard Thompson June 21, 2007 Prospect Park
Meat Puppets August 30, 2007 Knitting Factory

Venue of the Year:
Maxwell's Hoboken, NJ
Without question, the most enjoyable location to attend a concert in the NYC area. From top to bottom, Maxwell's offers the music fan every ingredient for a positive experience — fine sound system, excellent sight lines, excellent beer selection, and the venue does not include any of the negatives that often detract from enjoyment — the staff is friendly and professional, there is no power-drunk security, and concert goers are permitted to freely mingle and move around inside the venue. nyctaper attended 3 shows at Maxwell's this year (Fiery Furnaces, Figgs and Yo La Tengo), and each experience was as positive as the last one.