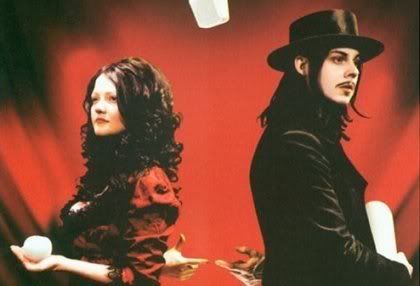 Well, its two weeks later, and instead of seeing White Stripes with 1200 people on a remote island in Canada, its back to the big city, the world's most famous arena, and 20,000 fans. Again, Jack and Meg were consistently excellent. The performance lasted 30 minutes longer than the July 11 concert, and the band did not seem to be fazed at all by the size of the venue or the raucous crowd.
The NYC recording differs from the Canada recording, but the quality is equally excellent. I was in my favorite recording section of the Garden, Section 7, which placed me in front of the soundboard and in the center. This recording has more stereo presence, but also more of the crowd. It is perhaps a better overall representation of the experience of this outstanding concert.
This recording is no longer available due to Mr. White's new strict anti-taping and anti-sharing policy.
White Stripes
2007-07-24
Madison Square Garden
New York, NY USA
Digital Master Recording
Recorded from Front of Board Center
Section 7, Row J, Seat 10
DPA 4021's > Marantz PMD-660 (Oade BCM) > flac
Please support this outstanding artist:
http://www.whitestripes.com
Premiere Download offered at
http://www.nyctaper.com
nyctaper@nyctaper.com
Setlist:
[Total Time 1:52:22]
01 Dead Leaves and the Dirty Ground
02 When I Hear My Name
03 Jolene
04 Hotel Yorba
05 Cannon
06 Icky Thump
07 Do
08 Death Letter
09 In The Cold, Cold Night
10 A Martyr for My Love for You
11 I'm Slowly Turning Into You
12 I Think I Smell A Rat
13 Wasting My Time
14 300 MPH Torrential Outpour Blues
15 You Don't Know What Love Is
16 Fell in Love With a Girl
17 Ball and Biscuit
18 [encore break]
19 Blue Orchid
20 I Just Don't Know What To Do with Myself
21 Little Ghost
22 We're Going to Be Friends
23 Little Bird
24 Catch Hell Blues
25 My Doorbell
26 Seven Nation Army
27 Boll Weevil
Information:
txt file
Verification:
md5 file
Thanks to beeerlover, there is now CD Cover Art for this recording and the Charlottetown recording:
CD Cover Art
Support the White Stripes and purchase their official releases by clicking the images below: