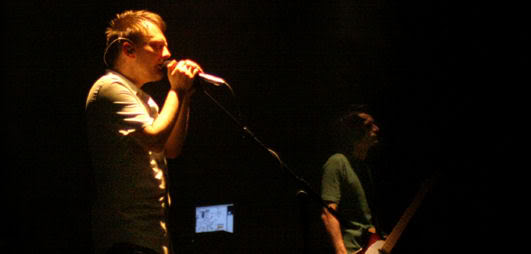 Radiohead. Somehow you knew it had to be them. The band to ultimately drive the last nail into the coffin of the old-model record companies. The brilliant simplicity of the promotion model for In Rainbows is something to behold. The user can buy the digital download for any price the user believes to be appropriate. I decided to order last night, and paid what amounted to $11 US. There is also a deluxe box set with extra songs, a double vinyl disc, a book, eight bonus tracks and two CDs which requires purchase and will be delivered in December.
Oh yes, and there is no record company or any other entity involved in the download. Its Radiohead and us. The ramifications of this grand experiment are huge. Here at nyctaper, we believe that Radiohead's model represents a validation of the mission of this site–free downloads as a means to promote a positive relationship directly between artists and fans. A new paradigm indeed.
Bob Lefsetz blog contains an excellent discussion of In Rainbows.
The download will be available on October 10. Pre-Order In Rainbows here.
In 2006, Radiohead toured and performed several songs that will appear on In Rainbows. I recorded one of the Theatre at Madison Square Garden shows. This is a nice clear recording, and is the last recording I made with my old condenser microphones before upgrading the Neumann rig and the DPA rig. Enjoy!
The photograph above is courtesy of the drinkatwork blog.
This recording is no longer available on nyctaper.com. If you search the web, I'm sure you'll find a copy.
Radiohead
2006-06-14
The Theatre at Madison Square Garden
New York, NY USA
Recorder1
Master Audience Recording
Section 202 Row R, Seat 19
approximately 100 feet directly in front of stage-left PA speaker
Core Sound Cardiods > M-Audio Microtrack 24/96 >
16 bit 44.1 wav file > Soundforge > CDWave (tracking) > Flac
Frontend (level 7, align sector boundaries) > flac
recorded and edited by
nyctaper 2006-06-14
This recording is dedicated to the people of the Radiohub, a
wonderfully generous and dedicated group of Radiohead fans.
Visit radioheadlive.no-ip.org in the direct connect network (DC++) or
http://www.radiohub.net/index.php/Main_Page on the web
Tracklist:
01 Intro/The Gloaming
02 The National Anthem
03 15 Step
04 Arpeggi
05 Kid A
06 Dollars And Cents
07 Videotape
08 Nude
09 I Might Be Wrong
10 Paranoid Android
11 Bangers 'n Mash
12 Pyramid Song
13 My Iron Lung
14 Bodysnatchers
15 Myxomatosis
16 No Surprises
17 Everything In Its Right Place

Encore 1
18 A Wolf At The Door
19 Down Is The New Up
20 Like Spinning Plates
21 Spooks
22 Idioteque
Encore 2
23 Just
24 The Tourist
I can not express how important it is to SUPPORT RADIOHEAD and this grand experiment. PLEASE visit the Radiohead site and purchase In Rainbows. Don't just grab it for free and run. Its important that the artist prove that this is a new and effective business model.