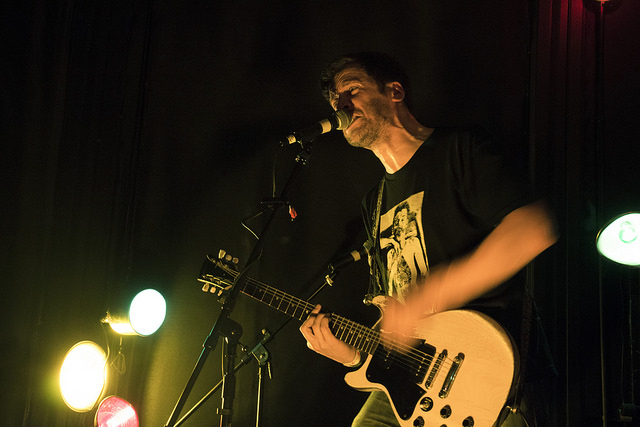 [photos by Stephanie Ronquillo – full set at her Flickr and Instragram]
Pile is one of those bands who you thought was your little secret and suddenly there are 500 people at their show. There's something to be said for a band that grows its fanbase steadily and organically through consistently solid shows and records. Pile has existed for more than ten years and since signing to the most excellent Exploding In Sound Records in 2011, the trend has continued upward. The last couple of years have been remarkable. We saw them in 2015 at SXSW before a modest crowd and then later 2015 before a couple of hundred at Baby's All Right. Earlier this year, we captured their sold out show at Sunnyvale. But a couple of weeks ago Pile sold out five-hundred strong at Market Hotel.
Buoyed by the band's most recent album, the superb A Hairshirt of Purpose, Pile has finally and deservedly arrived. The Market Hotel offers a nice companion to the Pile experience, both are authentically DIY. The packed-in fans responded in kind, singing along to all of the lyrics showing true appreciation for the older obscure numbers that the band whipped out late in the set. The setlist for this show was heavy on Hairshirt material, but also delved into their self-released 2011 7″ ("Scissors"), "Pigeon Song" from the Boston Hassle compilation, and a couple of songs from the early Dripping album. We expect to see Pile again as often as possible, and hopefully at Market Hotel in the Spring or Summer.
This recording was captured by FOH Harrison utilizing the internal USB drive recording device on the Market Hotel's Behringer X32 Soundboard. For a straight board feed from a smallish room, this recording is quite well balanced other than somewhat more prominent vocals. Enjoy!
Download the Complete Show [MP3] / [FLAC]
Stream the Complete Show:

Pile
2017-12-09
Market Hotel
Brooklyn NY
Digital Master Recording
Soundboard + Upfront Audience
Soundboard [Engineer: Harrison Fore] + 16bit 48kHz wav file > Soundforge (post-production) > CDWave 1.95 (tracking) > TLH > flac (320 MP3 and tagging via Foobar)
Produced by nyctaper
Setlist:
[Total Time 52:36]
01 Texas
02 Baby Boy
03 The World is Your Motel
04 Worms
05 Hissing for Peace
06 Special Snowflakes
07 Hairshirt
08 [banter – thanks]
09 Leaning on a Wheel
10 Grunt Like a Pig
11 Fingers
12 Pigeon Song
13 Scissors
14 Rock and Roll Forever with the Customer in Mind
15 [encore break]
16 Rock and Roll Forever with the Customer in Mind – Reprise
PLEASE SUPPORT Pile: Bandcamp | Facebook | Buy A Hairshirt of Purpose via Exploding in Sound