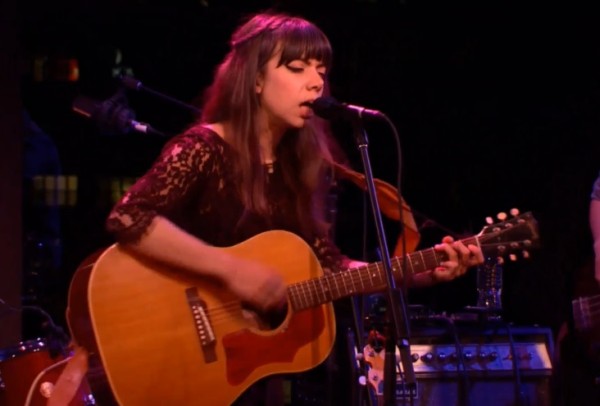 In February, Hurray For The Riff Raff released Small Town Heroes, their first album for ATO Records. As we've followed the band closely for several years, the last five recordings of HFTRR on this site have also followed the growth and development of these songs over time. The album is a brilliant dose of Americana but the songcraft is truly what shines in the collection of inspired tracks. There's the Carter Family influenced old country of "Blue Ridge Mountain", country-rock in "End Of The Line", New Orleans blues of "St Roch Blues", the John Prine-ish title track, and the reverse/revenge murder ballad "The Body Electric" — all of which are authentic interpretations of the best of American music. HFTRR recently had a major personnel change when Sam Doores returned to his own excellent band The Deslondes. Our previous HFTRR experience featured Deslondes as the opening band, and Sam guested on several tracks. This past week at Knitting Factory was our first HFTRR show where Alynda Lee was the sole front-person and the growth in both her stage maturity and ease in the spotlight continue to impress. But she's still a kid at heart and it brought smiles when she told of her shyness at meeting one of her idols Lucinda Williams at SXSW this year. I couldn't help but think that ten years or so from now young performers will approach their idol Alynda Lee with the same timidity. We're streaming the Lucinda cover played this night. Hurray For The Riff Raff are currently on tour in selected US cities throughout April before they head to Europe for a handful of shows in May.
I recorded this set in our usual manner in this venue — Sennheiser cards at the soundboard mixed with a feed from talented house FOH Rob. The sound quality is superb. Enjoy!
Stream "People Talkin" (Lucinda Williams cover):

Download the Complete Show [MP3] / [FLAC]
Note: All of the material on this site is offered with artist permission, free to fans, at our expense. The only thing we ask is that you download the material directly from this site, rather than re-posting the direct links or the files on other sites without our permission. Please respect our request.
Hurray For The Riff Raff
2014-04-02
Knitting Factory
Brooklyn NY
Digital Master Recording
Soundboard + Audience Matrix
Soundboard [engineer Rob] + Sennheiser 8040 Cardioids > Edirol R-44 (Oade Mod) > 2 x 24bit 48kHz wav files > Soundforge (level adjustments, mixdown, EQ, set fades) > CDWave 1.95 (tracking) > TLH > flac (320 MP3 and tagging via Foobar)
Recorded and Produced
by nyctaper
Setlist:
[Total Time 1:15:52]
01 The New SF Bay Blues
02 Blue Ridge Mountain
03 Instrumental
04 Look Out Mama
05 Slow Walk
06 When I Was A Cowboy [Leadbelly]
07 Levon's Dream
08 I Know Its Wrong
09 Ode To John And Yoko
10 [Body Electric intro]
11 The Body Electric
12 [banter – Benjamin Booker]
13 Crash on the Highway
14 Lake Of Fire
15 End Of The Line
16 [banter – happy birthday]
17 Daniella
18 Everybody Knows
19 Here It Comes
20 Little Black Star
21 [encore break]
22 People Talkin [Lucinda Williams]
23 Fiddlesticks
If you Download this recording from nyctaper, we expect that you will PLEASE SUPPORT Hurray For The Riff Raff, visit their website, and purchase Small Town Heroes from the ATO Records website [HERE].