[photos by PSquared Photography]
"A Day at the Market" is really a simple concept for an intimate performance in a quintessential setting. Some of our favorite performers will play the Market Hotel during the daylight with unamplified acoustic guitars in front of a select audience. The first installment of what we anticipate will be a long-running series featured the inimitable Ryley Walker.
This show took place on a Friday afternoon, and as you can tell from the rumbling train and siren audible early in this recording, the Market Hotel's unique location was very much a part of the proceedings. And that's how it was intended. One of the charms of this unique venue is the placement of the huge window behind the stage that makes the audience feel as if the performer is playing virtually on the J/M Myrtle-Broadway subway platform. And the intimate nature of the event made it easy to understand why we selected Ryley Walker for the debut of A Day at the Market — his immense talents and likeability are quite intense when it feels like its just you and him in the room.
Ryley played all new songs at this event, offering us a preview of his new album Golden Sings That Have Been Sung, which will be released on August 19 on Dead Oceans Records. Of the nine songs on the album, six were performed (along with one unreleased track). Ryley was accompanied only by stand-up bass player Anton Hatwich, so that these are pared-down versions of the new album and this recording is a fine accompaniment to the official release.
More great news to report — Ryley Walker will return (with full band) to the Market Hotel for a proper night time show on November 3 and tickets are now available [HERE].
I recorded this set with four strategically placed microphones. I utilized the installed audio technica cards mounted in the center of the room combined with two schoeps cards on a stand in the front of the stage. While obviously the wholly acoustic setting allowed for the ambient sounds to be heard, overall this recording is exactly how it should be — full spectrum clear sound of a special event in a special setting. Enjoy!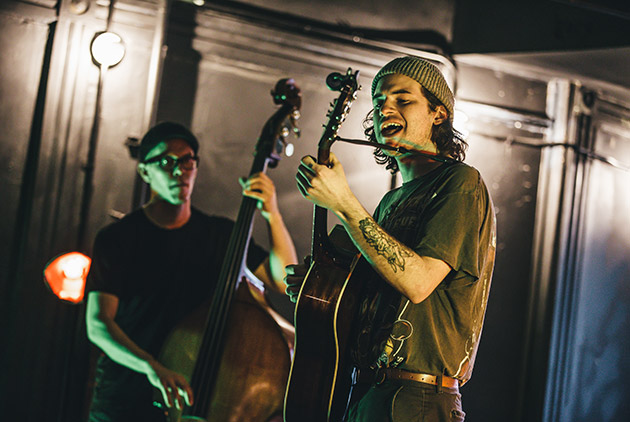 At some point, when we can figure out how to properly edit it, we will have a complete upfront video from this show.
Sorry no downloads of this one.
This recording is now available to Download in FLAC or MP3 or to Stream at Archive.org [HERE].
Stream the Complete Show:

Ryley Walker
2016-05-13
Market Hotel
Brooklyn NY
Digital Master Recording
Four Channel Audience Matrix
Schoeps CCM4u Cardioids + Audio Technica 4051 > Roland R-44 (Oade Mod) > 2 x 24bit 48kHz wav files > Soundforge (level adjustments, mixdown, set fades) > CDWave 1.95 (tracking) > TLH > flac (320 MP3 and tagging via Foobar)
Recorded and Produced by nyctaper
Setlist:
[Total Time 46:11]
01 The Halfwit In Me
02 Shaking Like The Others
03 The Great And Undecided
04 Grand Old Trout – Age Old Tale
05 The Roundabout
06 Sullen Mind
07 Funny Thing She Said
SUPPORT Ryley Walker: Website | Facebook | PreOrder Golden Sings