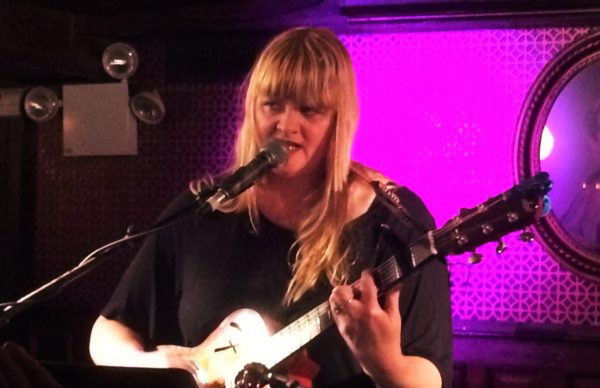 [photo by neild]
neild reports:
Though I'd been a fan of her music for years before, my first time seeing Barbara Manning live was in 2001, when she put on a blistering performance with her then-band the Go-Luckys at the late, lamented Tonic. She was going to be playing again a couple of nights later at the (even more lamented) Maxwell's, but I figured I'd skip it and catch her the next time around.

Bad planning: Manning more or less dropped off the touring map after that, disappearing into schoolwork and eventually a career as a high-school science teacher in Southern California. Though she continued to write and record music (available on Bandcamp as the outstanding album Chico Daze), her live appearances became few and far between: a one-off in Philadelphia one year, Boston the next, Oregon the year after. Though she showed up in 2012 at one of the final Yo La Tengo Hanukkah shows at Maxwell's (performing a cover of "Christmas Is Lonely (When You're A Jew)") and in 2014 at a Chickfactor show in Brooklyn, until this summer Manning hadn't played a headlining set in New York since that Tonic show way back when.

Fortunately, her latest jaunt took her on a two-stop tour of the east: a record store show in Philly, and a couple of nights before that, an appearance at Brooklyn's Union Hall, with Hamish Kilgour opening. Manning was sans band this time, just her amazing voice and her guitar, but that was all she needed, transfixing the crowd with a set that ran from her earliest songs ("Breathe Lies") to her most recent ("Tape You to a Star"), as well as with her relentlessly hilarious stage banter, including a story about performing with the krautrock band Faust that ended up leading to the audience mooing at her for much of the show (It'll make sense once you hear it). By the final audience singalong on her trademark song "Scissors," everyone within earshot was hoping that Barbara Manning appearances become less of a rarity in coming years.

This show was recorded with AT-853 cardioid mics suspended from the Union Hall ceiling, mixed with a multitrack soundboard recording provided via the kind help of Union Hall's booking agent Shannon Manning and soundfolk Gary and Alex. And much thanks of course to Barbara Manning as well — you can thank her, and reward yourself, by picking up her music either at her Bandcamp site or wherever finer indie rock is sold.
Download the Complete Show [MP3] / [FLAC]
Stream "Life/Luck":

Barbara Manning
2016-07-03
Union Hall
Brooklyn NY
Soundboard + Audience Matrix
AT-853 Cardioid + Soundboard > Sony PCM-M10 > WAV (24/48) + AT853 cardioid mics > SP-SPSB-1 battery box > Sony PCM-M10 > WAV (24/48) > Sound Studio (light dynamic compression and mixing) > FLAC (16/44.1) > Tag > FLAC
Recorded and mastered by neil d
Setlist:
01 Intro
02 Breathe Lies
03 B4 We Go Under
04 Buds Won't Bud
05 I Insist
06 Coy Tongue
07 Dreaming
08 Haze is Free
09 Sympathy Wreath
10 Life Luck
11 Never Park
12 Bold Letters
13 Better By Bounds
14 Tape You to a Star
15 Deep Sea Diver
16 Someone Wants You Dead
17 Scissors