[Photos courtesy of Dominick Mastrangelo Photography]
If the true measure of a band's abilities is how well they play live, you could say it is doubly a measure of their talents how well they can play acoustically in someone's back yard on a muggy July day, with planes flying overhead and bugs threatening to choke them. Prairie Empire rose to that challenge at a recent Backyard Brunch Sessions, where they gave the audience the added bonus of new material recorded after their just-released eponymous debut album. Though weary from closing out their recent tour, lead singer Brittain Ashford and her band (or at least, part of it) were in high spirits and strong form, further honed from their time on the road.  Both "Like Birds" and the brand-new "Muir Woods" gave those of us just getting acquainted with the new record even-newer material to delve into, while album tracks like "Give" have never sounded better. For a more electrified take on the band, check out our June 10th recording from Mercury Lounge, but if you are into the acoustic style, it's also worth taking a look at the band's recent Daytrotter session.
hi and lo recorded this set with a combination of Schoeps and MBHO microphones.  Other than a few unavoidable blasts of wind and planes flying overhead, the sound is excellent!
Thanks to the BBS sponsors for this show, Grady's Cold Brew and Kings County Distillery Moonshine.
Stream "Snow"
Audio clip: Adobe Flash Player (version 9 or above) is required to play this audio clip. Download the latest version here. You also need to have JavaScript enabled in your browser.
Stream "Give"
Audio clip: Adobe Flash Player (version 9 or above) is required to play this audio clip. Download the latest version here. You also need to have JavaScript enabled in your browser.
Direct download of MP3 files [HERE] | Direct Download of the FLAC files [HERE]
Note: All of the material on this site is offered with artist permission, free to fans, at our expense. The only thing we ask is that you download the material directly from this site, rather than re-posting the direct links or the files on other sites without our permission. Please respect our request.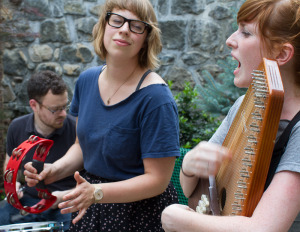 Prairie Empire
2012-07-14
Backyard Brunch Sessions
Brooklyn, NY USA
Exclusive download hosted at nyctaper.com
Recorded by hi and lo
Produced by acidjack
Equipment: Schoeps MK21 (NOS)>NBox Cables>PFA + Schoeps MK5 (omni)>KC5>PFA + MBHO KA200/603>>Tascam DR-680
Mastering: 5x24bit/48kHz WAV>Adobe Audition CS 5.5 (mixdown, adjust levels, DR compression)>Izotope Ozone 5 (EQ, assorted other effects)>Audacity (tracking, set fades, amplify, balance, downsample)>FLAC ( level 8 )
Tracks
01 [intro]
02 Song For You
03 Tenfold
04 Like Birds
05 [banter]
06 Snow
07 Winter Came
08 [tuning/banter]
09 Give
10 Where You Are
11 Muir Woods
If you enjoyed this recording, PLEASE SUPPORT Prairie Empire, visit their website, and purchase their record from Trailer Fire Records [HERE] or on iTunes.