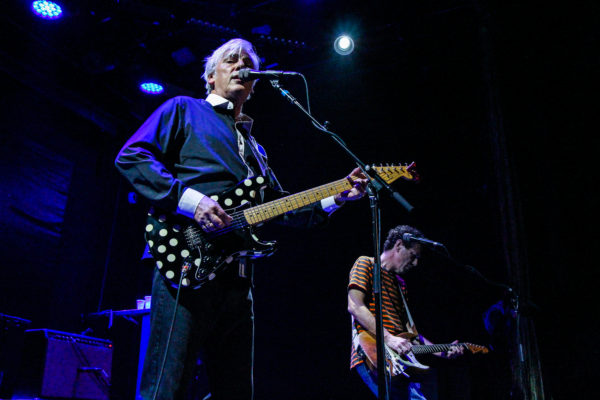 [photos by Ellen]
The night after Robyn Hitchcock's very memorable Rough Trade show, the performer and backing band performed in Manhattan for what proved to be an entirely different experience from the the previous show. Aside from the fact that the venue is twice the capacity than in Brooklyn, a sold-out show at Bowery Ballroom tends to have a discernible buzz and an energetic crowd. And for this particular special event, many long-time fans and some industry folk were in attendance and let their voices be heard.
As a full album two-set show, it was in the second set where this night diverged from the previous show. After a set of Black Snake Diamond Role in which Robyn bantered more and dealt with some vocal microphone issues, the band returned for a second set that mixed it up quite a bit from the Rough Trade show. At Bowery we got a mini quiet set with "I Often Dream of Trains" as the highlight, a chugging version of Dylan's "Obviously Five Believers" and a pretty rare Love cover in the encore set. These two nights of prime Robyn Hitchcock and band playing at the peak of their skills were best-of-year quality shows and I expect we will be revisiting them often.
I recorded this set with the Schoeps mounted next to the soundboard booth in the front of the balcony. The sound in the venue was again outstanding and other then some crowd rowdiness, this is another superb recording. Enjoy!
Download the Complete Show [MP3] / [FLAC]
Stream the Complete Show:

Robyn Hitchcock
with Yo La Tengo
2017-03-01
Bowery Ballroom
New York NY
Digital Master Audience Recording
Recorded at Soundboard Booth
Schoeps CCM4u Cardioids > Sound Devices 744t > 2 x 24bit 48kHz wav files > Soundforge (post-production) > CDWave 1.95 (tracking) > TLH > flac (320 MP3 and tagging via Foobar)
Recorded and Produced by nyctaper
Setlist:
[Total Time 1:46:52]
Set 1 (Black Diamond Snake Role)
01 The Man Who Invented Himself
02 Brenda's Iron Sledge
03 Do Policemen Sing
04 The Lizard
05 [banter – chocolate]
06 Meat
07 [banter – precision]
08 Acid Bird
09 [banter – New York Rocker]
10 I Watch the Cars
11 [banter – grey dove]
12 Out of the Picture
13 City of Shame
14 Love
Set 2
15 Wey Wey Hep Uh Hole
16 It's a Mystic Trip
17 Give Me a Spanner Ralph
18 [banter – British Rail]
19 I Often Dream of Trains
20 Winter Love
21 Let There Be More Darkness
22 Obviously Five Believers [Dylan]
23 Going Down to Liverpool [The Waves]
24 Kingdom of Love
25 [banter – thanks]
26 He's a Reptile
27 [encore break]
28 Rock 'n' Roll Toilet
29 Stephanie Knows Who [Love]
30 Airscape
PLEASE SUPPORT Robyn Hitchcock: Website | Twitter | Buy Official Releases