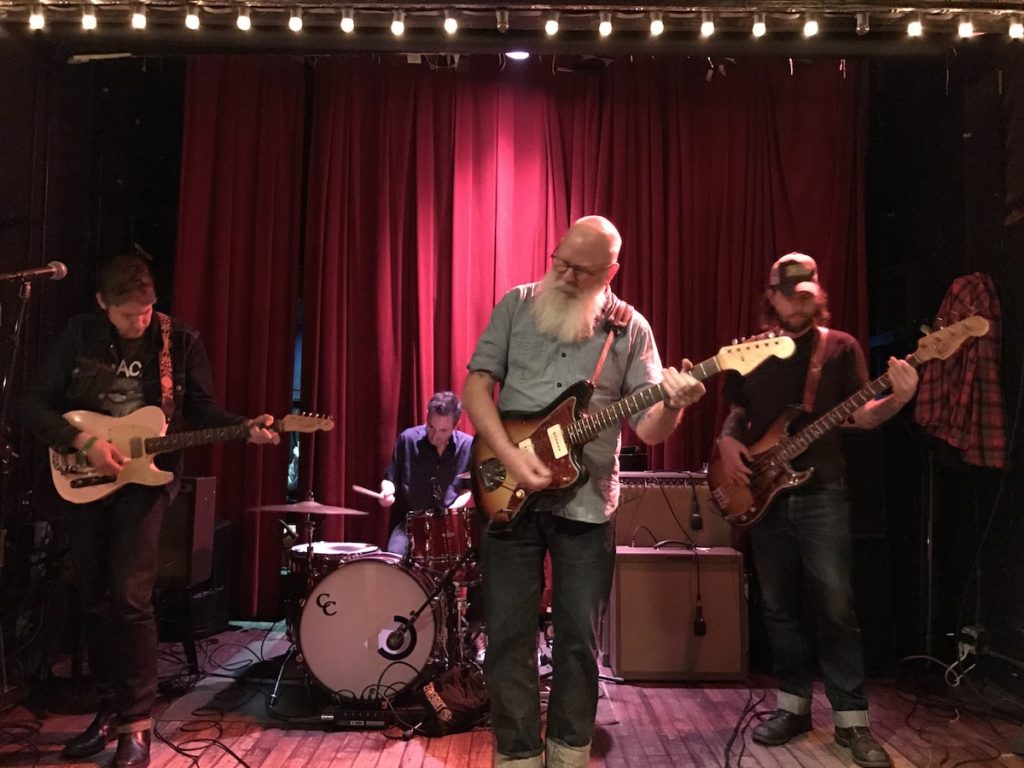 It doesn't take too much digging to trace the cartography of Americana in Brokeback or their new album, Illinois River Valley Blues. For it's in Illinois that Doug McCombs finds a microcosm of the American west and there the influence of the Spanish countryside. Outside Murphysboro, IL is home to the Little Grand Canyon; meanwhile, "Andalusia, IL," the song, would clearly have you recall both the south of Spain and its like-named Illinois counterpart. Within the songs, the map gets folded in ways that bring the two Grand Canyons together, that position Andalusia, IL somewhere in the Spanish region. Roads are traced on guitar strings; routes and motifs are circuitous and repeating. Brokeback always take the back roads.
I recorded this from our usual outpost at Union Pool, combined with a board feed courtesy of the venue's FOH, Doug, and touring engineer, Nick. The sound is excellent. Enjoy!
Brokeback continue their tour with a Chicago gig later this month and then off to the west coast. Check tour dates via Thrill Jockey.
Download: [MP3/FLAC]
Stream:
Brokeback
2017-05-04
Union Pool
Brooklyn, NY
Recorded and produced by Eric PH for nyctaper.com
Soundboard (engineer: Nick) + AKG C480B/CK61 > Zoom F8 > 2 x WAV (24/48) > Adobe Audition CC (align, mixdown, balance, compression, normalize, fades) + Izotope Ozone 5 (EQ) > Audacity 2.0.5 (tracking, tagging) > FLAC (24/48, level 8)
Tracks [38:44]
01. The Canyons of Illinois
02. Rise, Fernanda, Rise!
03. Ride Ahead and Light the Way For Me
04. Spanish Venus
05. Andalusia, IL
06. Ursula
07. Cairo Levee
08. Night Falls on Chillicothe
Band:
Douglas McCombs: guitar
James Elkington: guitar, harmonica
Pete Croke: bass
Areif Sless-Kitain: drums
• Buy Illinois River Valley Blues and other Brokeback albums via Thrill Jockey