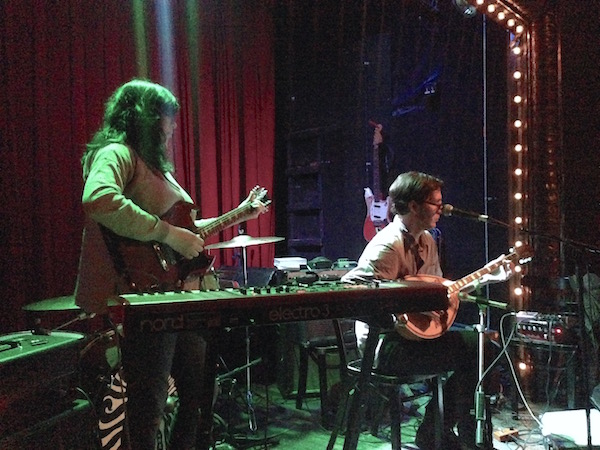 Dave Shuford, musician of many guises, has appeared on this site many times: as Rhyton's frontman, as alter-ego D. Charles Speer with backing band The Helix, and now as The Speer Duo with his wife Margot Bianca. Not unexpectedly, The Speer Duo incorporates traditional Greek music and instrumentation, reinterpreted within the context of rock music and Shuford's own improvisational style. For this set, playing on a superb mid-week bill at Union Pool with Sunburned Hand of the Man and Chuck Johnson, Shuford takes up the trichordo bouzouki and guitar while Bianca accompanies him on bass and keyboard. Most of the songs featured here are from Shuford's extensive catalog under the D. Charles Speer moniker: "O Sinachis" and "Tsamiko Hijaz" were originally released on the solo Speer record, Arghiledes, while "The Janissaries" is from its predecessor, Some Forgotten Country. "Sit Right There" is an older number off the D. Charles Speer & The Helix record, After Hours. And "Aman Yiala Yiala" is off a rare lathe-cut that I challenge you to track down.
I recorded this set from our usual location in the venue, with a board feed from Union Pool FOH, Robert. As usual for this room, the sound is excellent. Enjoy!
Shuford has a new album with Rhyton up for preorder from Thrill Jockey. I assure you the music is as awesome as the cover.
Download: [MP3/FLAC]
Stream:

The Speer Duo
2016-03-24
Union Pool
Brooklyn, NY
Exclusive download hosted at nyctaper.com
Recorded and produced by Eric PH
Soundboard (engineer: Robert) + AKG C480B/CK63 > Roland R-26 > 2xWAV (24/48) > Adobe Audition CC (align, compression, mixdown, normalize, fades) + Izotope Ozone 5 (EQ) > Audacity 2.0.5 (downsample, dither, tracking, tagging) > FLAC (16/44.1, level 8)
Tracks [36:26]
01. O Sinachis
02. Aman Yiala Yiala
03. The Janissaries
04. Tsamiko Hijaz
05. Sailing to Piraeus > Drone box improv > Sit Right There