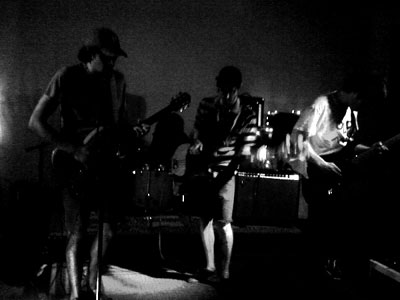 [uncredited photo from last.fm – will credit if info provided]
The band Spacin' began as the solo project of Jason Killinger, who was also a member of Birds of Maya. Philadelphia has produced a plethora of superb gargage-influenced music over the last several years and Killinger's contribution is no less impressive than others such as Kurt Vile, The War on Drugs, and Purling Hiss. In fact, Killinger teamed with Purling Hiss' Mike Polizze in Birds of Maya, and their solo bands just completed a tour together. On Thursday last, we caught Spacin' opening for the Hiss at 285 Kent and their set, although short in song titles and total time was a superb neo-psych/garage workout which included a couple of numbers from their debut album Deep Thuds, a couple of apparent new songs, and a killer cover the the MC5's "American Ruse" (streaming below). Now that Spacin' is on our radar, we won't miss their NYC shows.
This set was recorded in the same manner as the Purling Hiss set and the sound is excellent. Enjoy!
Stream "American Ruse [MC5 cover]:

Download the Complete show [MP3] / [FLAC]
Note: All of the material on this site is offered with artist permission, free to fans, at our expense. The only thing we ask is that you download the material directly from this site, rather than re-posting the direct links or the files on other sites without our permission. Please respect our request.
Spacin
2013-04-04
285 Kent
Brooklyn, NY USA
Digital Master Recording
Soundboard + Audience Matrix
Soundboard + Neumann TLM 102s > Edirol R-44 (Oade Concert Mod) > 24bit 48kHz wav file > Soundforge (level adjustments, set fades, downsample) > CDWave 1.95 > (tracking) > TLH > flac (320 MP3 and Tagging via Foobar)
Recorded and Produced
by nyctaper
2013-04-12
Setlist:
[Total Time 33:53]
01 Human Condition
02 Sunshine No Shoes
03 [banter]
04 American Ruse [MC5]
05 [new song]
06 Oh Man
If you download this recording from NYCTaper, we expect that you will PLEASE SUPPORT Spacin', visit their bandcamp page, and purchase Deep Thuds from Richie Records / TestosterTunes [HERE].