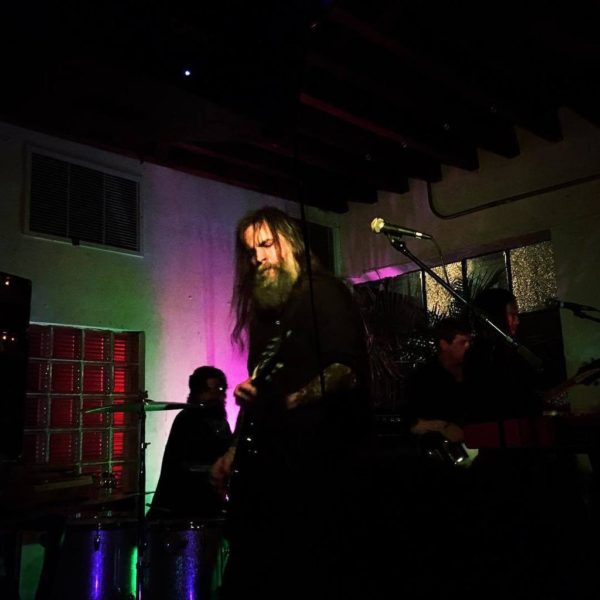 [photo by Kathleen Fox]
There might not be a better time for us to post this show in light of Tuesday night's horrific events. The new Wrekmeister Harmonies album Light Falls is a meditation on the struggle against all odds to overcome evil. Inspired by Primo Levi's writings about his time at Auschwitz, Levi's anti-fascist resistance fighter model of fortitude and resolve is perhaps an extremely apt guide for us all at present. For the album, Wrekmeister's J.R. Robinson and Esther Shaw added some gravitas to the proceedings by inviting three members of Godspeed You! Black Emperor to perform on the record. The result is a profoundly moving musical piece that explores the emotional ebbs and flows while on the ledge of life and death surrounded by pure evil — 1944 becomes 2016.
Wrekmeister Harmonies came East last week for a special show at Trans-Pecos, hosted by AdHoc, before leaving for a lengthy tour of Europe in November and December. The live band did include along with J.R. and Esther, the drummer Tim Herzog from Godspeed, Dana Schechter (Insect Ark) on lap steel, and Martin Farmer on bass. The set was one full uninterrupted suite consisting of the entire Light Falls album with three non-album tracks interspersed within the suite. However the focus was not on individual pieces but the performance as a whole — a profound use of light and dark, peace and anger, and subtlety and cacophony to draw out emotions very rarely felt while viewing a musical performance. Wrekmeister Harmonies is a unit not to be missed, and while they are in Europe we recommend playing Light Falls and this performance loudly and often.
I recorded this set with the usual setup in this venue, Schoeps at stage lip mixed with a board feed. Chris did a superb job mixing the band and the room sound was outstanding. The result is we feel a superb recording that accurately captures this moving music. Enjoy!
Download the Complete Show [MP3] / [FLAC]
Stream the Complete Show:

Wrekmeister Harmonies
2016-11-04
Trans-Pecos
Queens NY
Digital Master Recording
Soundboard + On-Stage Audience Matrix
Soundboard [Engineer Chris Cherry] + Schoeps CCM4u's > Sound Devices 744t > 2 x 24bit 48kHz wav files > Soundforge (post production) > CDWave 1.95 (tracking) > TLH > flac (320 MP3 and tagging via Foobar)
Recorded and Produced
by nyctaper
Setlist:
[Total Time 44:17]
01 A 300 Year Old Slit Throat
02 Light Falls I – The Mantra
03 Light Falls II – The Light Burns Us All
04 Light Falls III – Light Sick
05 Posting A Death Notice
06 The Gathering
07 Preparing To Be Lazarus In A Cooling Bed
08 Where Have You Been My Lovely Son – Some Were Saved Some Drowned – Lovely Son Reprise
Esther Shaw – violin, keyboards, vocals
Timothy Herzog – drums
Dana Schechter – lap steel
Martin Farmer – bass
J.R. Robinson – guitar, vocals
SUPPORT Wrekmeister Harmonies:  Facebook | Bandcamp | Purchase Light Falls from Thrill Jockey Records [HERE].