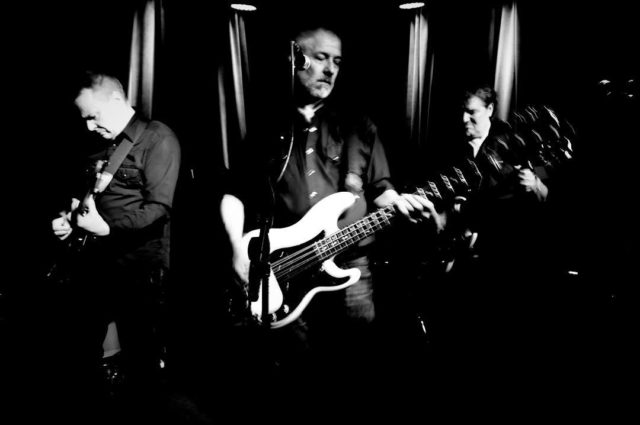 [photo from Ehud Lazin Instagram]
It had been ten years since we last encountered Monks Of Doom when this fortuitous event occurred. Those two shows in early 2009 at the now defunct Brooklyn venue Club Europa were the last time Monks appeared in the New York area. The Bay Area supergroup, containing mostly members of Camper Van Beethoven along with sometime CVB member and longtime guitarist for Counting Crows David Immerglück, tends to play intermittent west coast dates when the members' other projects are not active. In 2018, the quartet finished an album that has been in the works for that last decade and went on tour for the first time in who knows how long. The Brönte Pin is the band's first new material in twenty-five years, but sounds just as tight and focused as their best work. Immy shares lead vocal work with bassist Victor Krummenacher, with guitar wizard Greg Lisher and percussionist Chris Pedersen providing the backbone. This set opening for the special Escovedo/Barone show (here) was a treat that we literally had no idea was going to occur, and we hope it isn't another ten years before the band comes back to NYC. In the spirit of long delays, I inadvertently sat on this recording for over a year, but I guess its better late than never.
I recorded this set in the same manner as the Escovedo recording and the sound is equally superb. Enjoy!
Download the Complete Show from Archive.org in FLAC or MP3 [HERE]
Stream the Complete Show via Archive.org:

Monks Of Doom
2018-05-23
Berlin
New York NY
Digital Master Recording
Soundboard + Audience Matrix
Soundboard [engineer Mike] + Schoeps CCM4u Cardioids > Sound Devices 744t > 2 x 24bit 48kHz wav files > Soundforge (post-production) > CDWave 1.95 (tracking) > TLH > flac (320 MP3 and tagging via Foobar)
Recorded and Produced by nyctaper
Setlist:
[Total Time 47:35]
01 In Anticipation Of The Pope
02 Hieroglyphic
03 The Traveler
04 The Bastards Never Show Themselves
05 Going South
06 Up From The Cane
07 Oh Well [Fleetwood Mac]
08 Vaporize Your Crystals
09 [band introductions]
10 The Better Angels Of Our Nature
11 Tanguedia (Reprise)
12 Let's Split
13 Ukrainian Technological Faith Dance
PLEASE SUPPORT Monks of Doom: website | buy The Brönte Pin