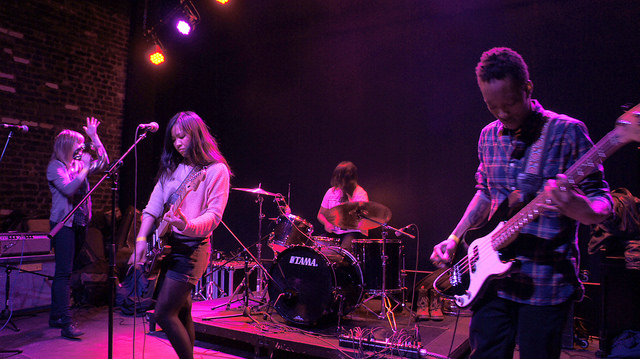 [photos by Dean Keim]
Heliotropes headlined an excellent four-band bill on Saturday night at new venue Radio Bushwick in a show presented by Supercrush Studio. When we last checked in with the band it was at our very own CMJ show in 2012 before the release of their album and the steady flow of praise that followed. The release of their debut album A Constant Sea was lauded as a "sumptuous psych-rock opus" by Spin, and a year or more later the band is stronger still. The obvious focus is on the dual vocalists Amber and Jessica, and on Jessica's heavy guitar work, but at the Radio Bushwick set it was the rhythm section who were the stars of the night. The venue's excellent sound mix allowed us to really hear the intricate bass work beneath Nya Abudu's otherwise powerful playing. And Cici Harrison is one of those drummers that you have to watch closely to appreciate — she isn't fancy or flashy but her tight aggressive play is the backbone of this band. Heliotropes set contained six songs from their album and two relatively new unreleased tracks which bode well for the future output of this excellent quartet. Heliotropes next gigs will be at the Savannah Stopover Festival, with complete Fest dates announced in a few days.
This was our first visit to the relatively new venue Radio Bushwick, as 22 Wyckoff Street. The venue has all of the ingredients for a successful run — excellent sound system, outstanding staff, prime beer selection, and a neat layout. For L train riders, its literally twenty feet from the Jefferson Street stop on the train. We had a perfect experience there on Saturday and hope to return often.
I recorded this set with the Sennheiser cards mounted on a small stand front and center of the stage and mixed it with a fine board feed provided by the venue's talented FOH Steve. The sound quality is superb. Enjoy!
Stream "Psalms":

Download the Complete Show [MP3] / [FLAC]
Note: All of the material on this site is offered with artist permission, free to fans, at our expense. The only thing we ask is that you download the material directly from this site, rather than re-posting the direct links or the files on other sites without our permission. Please respect our request.
Heliotropes
2014-01-25
Radio Bushwick
Brooklyn NY
Digital Master Recording
Soundboard + On-Stage Audience Matrix
Soundboard [engineer Steve Saverance] + Sennheiser MKH-8040s > Edirol R-44 > 2 x 24bit 48kHz wav files > Soundforge (level adjustments, mixdown, set fades) > CDWave 1.95 (tracking) > TLH > flac (320 MP3 and tagging via Foobar)
Recorded and Produced
by nyctaper
Setlist:
[Total Time 38:09]
01 Everyone Else
02 Early In The Morning
03 Good and Evil
04 [new song 1]
05 Psalms
06 [banter]
07 Quatto
08 Ribbons
09 [encore break]
10 [new song 2]
If you download this recording from NYCTaper, we expect that you will PLEASE SUPPORT Heliotropes, visit their Facebook page, visit their Bandcamp page, and purchase A Constant Sea from Manimal [HERE].