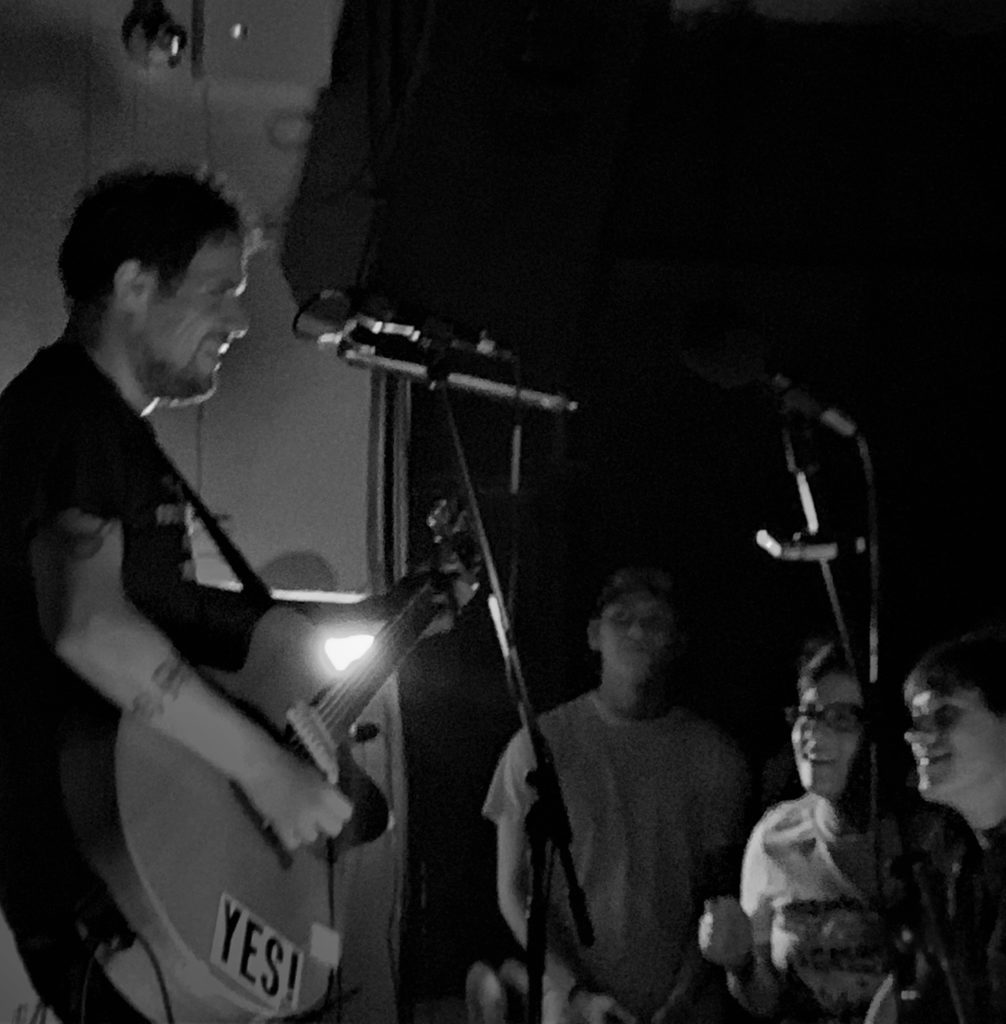 Its honestly hard for me to be objective about this concert for some pretty obvious reasons — including my involvement with the venue. But the real reason is because Jeff Rosenstock is truly one of the best people in music today. Jeff played four consecutive Monday nights at Trans-Pecos in December, and each night benefitted a different charitable organization. Each night also was a collection of coats for the homeless. There was no set admission price to the shows, but a suggested donation. And Jeff and his fans really came through, as over $10,000 was raised over the four shows and the funds were sent to Safe Horizon, Willie Mae Rock Camp, Educated Little Monsters, and Black Lives Matter.
We talked and the final night was Jeff's favorite of the shows. It also happens to feature the most excellent Laura Stevenson (congrats on the baby!) in a guest spot for a couple of songs. Jeff and Laura are long time friends who also played together in Bomb The Music Industry! and the energy between the two was obvious. As Jeff moved to LA at the end of 2019, this show was also a goodbye of sorts, so the emotions are palpable. All in all, a tremendous night for a variety of reasons, and a show we're happy to offer as a glimmer of hope in these tragic times.
This set was mixed by Manny and recorded in the thumb drive of the soundboard and the quality is outstanding. Enjoy!
PLEASE CONSIDER DONATING TO THE GOFUNDME FOR TRANS-PECOS SO THAT WE CAN CONTINUE TO PAY OUR STAFF WHILE THE ENTIRE MUSIC INDUSTRY IS CLOSED DUE TO COVID-19. THE LINK IS [HERE].
Download the Complete Show [MP3] / [FLAC]
Stream the Complete Show:
Jeff Rosenstock
2019-12-23
Trans-Pecos
Ridgewood NY
Digital Master Soundboard Recording
Soundboard [Engineer: Manny] > 16bit 48kHz wav file > Soundforge (post-production) > CDWave 1.95 (tracking) > TLH > flac (320 MP3 and tagging via Foobar

Produced by nyctaper
Setlist:
[Total Time 1:28:25]
01 [introduction]
02 Perfect Sound Whatever
03 Hey Allison
04 Pash Rash
05 [banter – less garbage]
06 Powerlessness
07 To Be a Ghost
08 Wave Goodnight To Me
09 The Lows
10 The Shit That You Hate
11 Festival Song
12 Rewards Zone
13 While You're Alive
14 Staring Out the Window at Your Old Apartment
15 [banter – Black Lives Matter]
16 Let Them Win
17 Eighties Through The Fifties
18 [banter – requests]
19 Rainbow
20 Saddr Weirdr
21 [Laura Stevenson intro]
22 Nine Out of Ten (9/10)
23 Sort of Like Being Pumped
24 [banter – Trans-Pecos]
25 Stand There Until You're Sober
26 Snow Charges
27 Nausea
28 [banter – broken string]
29 You in Weird Cities
30 [banter – thanks]
31 Future 86
SUPPORT Jeff Rosenstock: Bandcamp | Tumblr | Buy WORRY at SideOneDummy Records